Theme Park Attendance Is Up Except For SeaWorld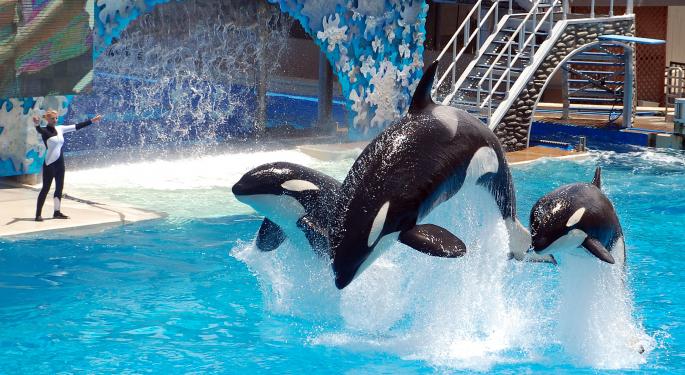 It's all systems go for the theme park industry. It's looking to be a record year for everybody from Comcast's (NASDAQ: CMCSA) Universal Studios to all-things-mouse at Disney (NYSE: DIS). But then there's SeaWorld (NYSE: SEAS) where the story isn't so rosy.
According to a new report from Visit Orlando, the data looks better than it thought. It had predicted that 57.7 million visitors would visit the Orlando, Florida area in 2013 representing a 1.5 percent year over year increase. But based on new data, it is now saying that the city will see a two to three percent increase year over year. This is largely due to room reservations for the second half of the year being up 6.3 percent year over year.
Robert Niles, editor of Theme Park Insider, says that parks in Southern California will be as well. "It appears it's going to be another strong summer for U.S. theme parks, with the big parks in Southern California and Orlando all trending upward this summer," says Niles.
In fact, Disney CEO Bob Iger reported on August 6 during its most recent earnings release that the Disney parks set new records during the second quarter at both its Orlando and California parks. Attendance was up three percent year over year and average spending per guest was up, in part, as a result of higher ticket prices. (Keep reading—that fact will become important.)
Related: Walt Disney Reports Mixed Earnings
SeaWorld, in sharp contrast, reported a $15.9 million loss in the second quarter compared to a $39 million profit in the second quarter of 2012. Attendance this year is down six percent to 10.1 million guests.
The company said that higher ticket prices and adverse weather were the main drivers of the down trend. The park raised its one-day ticket prices from $89 to $92—the same price as a one-day ticket at Disneyland.
More interesting was the adverse weather. In fact, SeaWorld put a lot of weight on its weather-argument. In its earnings release and throughout the entire conference call, it speaks of these adverse events saying that they account for between 3 and 30 percent of the drop in attendance. Here's how it was explained in the conference call:
"…the rainfall is up 136% above norm in April and 140% or so in May and 133% in June, it's a little bit better in July. So, that's 136% of normal, 146% of normal, that kind of thing."
And how many times did Disney mention weather in its conference call? Zero-- and since the two parks operate in the same city, it's interesting that this increase in rain and the higher ticket prices still allowed Mickey to have a record quarter where Sea World had a dismal three months.
Disclosure: At the time of this writing, Tim Parker had no position in the companies mentioned.
Posted-In: Bob Iger disney Orlando SeaWorldEarnings News Econ #s Best of Benzinga
View Comments and Join the Discussion!