Tesla Shares Volatile On Fears of Regulatory Clamp Down (TSLA)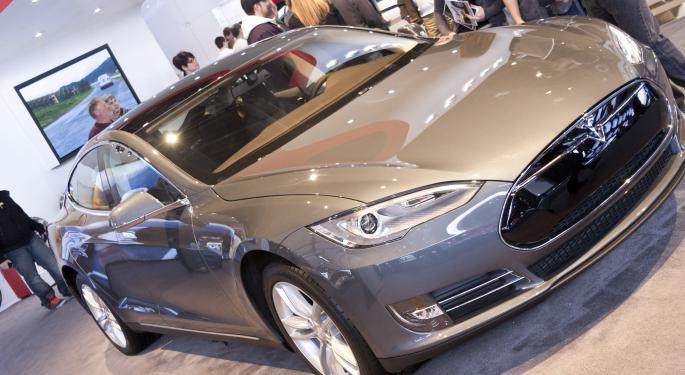 Tesla Motors (NASDAQ: TSLA) were volatile in early trade on fears that a regulatory clamp down could weigh on profits.
Automotive News reported Monday morning that Tesla's ability to sell its extra carbon credits for huge profits could come under regulatory pressure and risk the company's profitability.
Regulation Worries
Shares of Tesla were volatile Monday morning as the state of California is rumored to be weighing whether to eliminate the "fast-refueling" rule that allows electric vehicles with quick-swap batteries to gain bonus credits under CARB's regulations. Should they change this rule and only grant the normal level of credits, it could mean a large reduction in quick profits for Tesla.
In the first quarter, Tesla reported its first quarterly profit which was boosted by these profits from sales of carbon credits. Tesla's $11.2 million profit was boosted by $67.9 million in ZEV credits and "other regulatory credits" adding an additional $17.1 million. Combined, these $85 million in revenue from sales of credits amounted to offset Tesla's $73.8 million operating loss.
Tesla generated these revenues by selling extra credits to automakers who do not meet standards. These credits sell for large sums on the open market as other automakers with less fuel efficient fleets need to make up for the lack of efficiency.
Battery Swap Reaches Standards
Earning the top level of carbon credits requires an electric vehicle to get 300 miles of range for city driving and refill to 95 percent capacity in 15 minutes or less. Tesla's 85 kilowatt Model S actually does not reach that requirement with its Supercharger plug-in but uses a loophole by enabling users to change batteries to achieve the top level of credits.
Regardless of whether the rules change this year, all credits will be based purely on mileage by 2018, erasing any potential advantage Tesla has until that time.
Shares Volatile
Tesla shares were volatile in Monday trade. Shares initially made a new all-time high of $142.65 this morning before selling off when the Automotive News story hit. Shares flirted with the $142 level again just after 11:00 am.
Posted-In: Cap and Trade Carbon Credits Elon MuskEarnings News Legal Movers Tech Best of Benzinga
View Comments and Join the Discussion!