Warren Buffett's Bond Stance Propels Berkshire To Double Digit Earnings Growth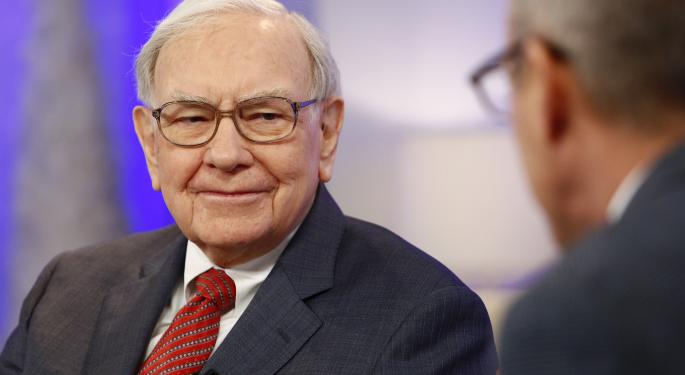 Warren Buffett has never been much for the media spotlight which is likely one of the reasons why his company, Berkshire Hathaway (NYSE: BRK-A)(NYSE: BRK-B) reported earnings on Friday evening when traders were packing Wall Street bars talking about Anthony Weiner and the week's winning trades.
But this was a quarter to talk about for Berkshire. The company reported A-share profit of $4.54 billion, or $2,763 per share. That's a year over year increase of $881 per share or a 46 percent gain. Operating profit rose to $2,384 per share—up from $2,252 for a six percent gain. Analysts had expected $2,170.
Investment gains came in at $322 million—up from $81 million one year prior and a 297 percent increase year over year. Derivative gains were $300 million compared to a $693 million loss one year ago.
Related: Berkshire's MiTek Buys Benson Industries, No Terms Disclosed
Bloomberg pointed out that Buffett's bearish views on bonds helped Berkshire's bottom line. Book value of class A shares rose two percent to $122,900 per share while other insurers (Berkshire's closes competitors) like AIG (NYSE: AIG), Travelers (NYSE: TRV) and Allstate (NYSE: ALL) all posted second-quarter declines--2.1 percent, two percent, and 4.2 percent of book value respectively.
Buffett told shareholders in February of 2012 that he saw bonds as one of the "most dangerous" assets because yields were much too low to compensate investors for the risk of inflation. As Federal Reserve Chairman Ben Bernanke signaled a tapering of the Fed's bond buying program, interest rates surged creating big losses in insurers that invest a significant portion of their assets in bonds.
Buffett, however, prefers stocks over bonds and because of Berkshire's huge cash reserves and other sources of income, he can turn a blind eye to bonds in his insurance businesses. In the second quarter, yields on 10-year Treasuries rose 2.49 percent while the S&P 500 advanced 2.4 percent.
Berkshire also continued to buy stocks last quarter. It purchased $4.64 billion and sold $781 million. Unrealized gains in its portfolio rose 3.5 percent to $47.8 billion.
Berkshire Hathaway has had a banner year and these positive results should serve to move both the A and B shares higher. The more retail investor-friendly B shares are up 26 percent this year at $117.82. The A shares are up the same amount, currently trading at $176,500.00 per share.
Disclosure: At the time of this writing, Tim Parker had no position in the mentioned equities.
Posted-In: A-Shares AIG allstate B-shares Berkshire Hathaway TravelersEarnings News Best of Benzinga
View Comments and Join the Discussion!