MasterCard Earnings Preview: Strong Second-Quarter Results Expected (MA)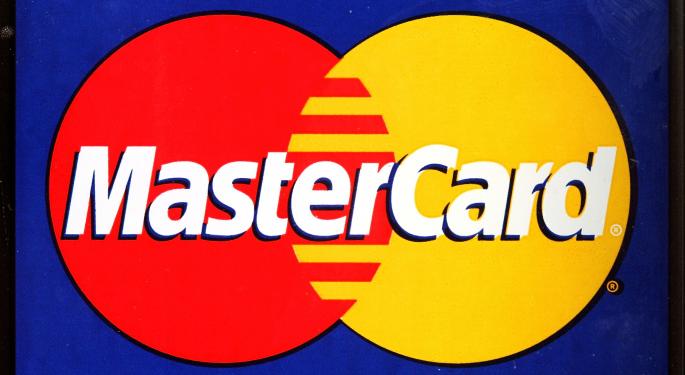 MasterCard (NYSE: MA), which announced the retirement of its chief marketing officer last week, is scheduled to report its second-quarter 2013 results Wednesday, July 31, before the markets open.
Net income and revenue have risen for three straight quarters, and investors will be looking for that trend to continue. The company should also provide an update on the status of its $2 billion share repurchase program approved back in February.
See also: Nomura Raises PT on MasterCard Ahead of June Quarter Results
Expectations
Analysts on average predict MasterCard will report that revenue for the quarter rose about 10 percent year-over-year to $2.00 billion. Earnings of $6.30 per share are also in the consensus forecast. That would be up from a reported profit of $5.65 per share in the comparable period of last year and from $6.23 in the previous period.
That earnings per share (EPS) estimate is the same as it was 60 days ago. And note that analysts have underestimated the company's EPS results by at least a nickel per share in the past four quarters.
MasterCard's CEO said in the first-quarter report: "We are pleased with our first-quarter results as we delivered solid performance that met our expectations despite the mixed global economic environment. ... Since the start of the year, we have had steady momentum in new business, as well as product innovations." The share price rose more than 10 percent in the days following the first-quarter report.
Looking ahead to the current quarter, the analysts' consensus forecast calls for sequential and year-over-year of both EPS and revenue. And the full-year forecast so far calls for EPS and revenues to be more than 13 percent and 10 percent higher, respectively, relative to the previous year.
The Company
MasterCard provides transaction processing and other payment-related services in the United States and internationally. Those services include payment processing technology, payment security, connectivity services, fraud detection and prevention, and payment card brand licensing.
It has been a publicly traded company since 2006 and was founded in 1966. Its headquarters are in Purchase, New York. The company has a market capitalization near $73 billion. Ajaypal Singh Banga has been the chief executive officer since April 2010 and was previously the chief operating officer.
Competitors include Fiserv (NASDAQ: FISV) and Visa (NYSE: V). The former is expected to post strong second-quarter results later Tuesday. Visa topped earnings expectations in its report last week, due to increased spending with credit and debit cards worldwide.
See also: Stifel Nicolaus Raises PT on Visa Following Earnings Report
During the three months that ended in June, MasterCard launched its MasterPass Digital Wallet in Canada, teamed with Western Union (NYSE: WU) on an international payments service and announced leadership changes in its Latin America unit.
Performance
MasterCard has a long-term EPS growth forecast of about 18 percent, but its price-to-earnings (P/E) ratio is greater than that of Visa. The operating margin is a healthy 54 percent, the return on equity is more than 42 percent and the return on investment is almost 40 percent. The dividend yield is about 0.4 percent.
The number of MasterCard shares sold short, as of the mid-July settlement date, represents about 1.5 percent of the float. That was the highest that the short interest has been since January. Days to cover rose to about three, the highest it has been in at least a year.
Of the 35 analysts surveyed by Thomson/First Call who follow the stock, 10 of them rate shares at Strong Buy, and an additional 14 also recommend buying shares. But the analysts' mean price target, or where they expect the stock to go, represents less than five percent potential upside. That would be a new multiyear high, though.
The share price has advanced about eight percent in the past 90 days, despite pulling back a bit from last week's 52-week high. Shares are trading more than 35 percent higher than a year ago. The share price is above the 50-day and 200-day moving averages. Over the past six months, the stock has outperformed Fiserv and the S&P 500, but it has underperformed Visa.
Posted-In: Fiserv mastercard visa western unionEarnings Previews Trading Ideas Best of Benzinga
View Comments and Join the Discussion!