Five Tech Stocks to Watch This Earnings Season (AAPL, GOOG, NFLX)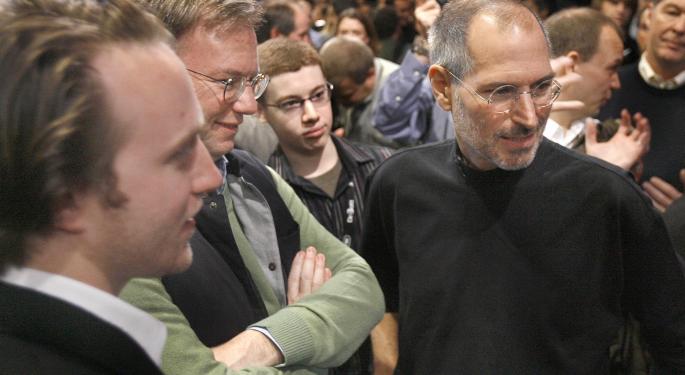 The whole world will be watching when Apple (NASDAQ: AAPL) reports its third fiscal quarter results on Tuesday, July 23.
While the firm disappointed some investors during the previous earnings period, Apple set new standards during the second quarter with iPhone sales that reached 37.4 million units.
The Mac maker also sold 19.5 million iPads during the second fiscal quarter, outpacing the 11.8 million units that were sold during the year-ago period.
Related: Apple Sold 12.5 Million iPad Mini Units in Q2
Apple is not the only firm that will report over the next few weeks. There are a number of significant tech stocks that investors should keep an eye on.
Sony
When Sony (NYSE: SNE) reports its first fiscal quarter results on Thursday, August 1, investors will be watching for improvements to the firm's electronics, entertainment and video game businesses.
Few will forget the efforts of activist investor Dan Loeb, who hoped to divide Sony into separate divisions. His efforts may be in vain, however, as they could tarnish the company's most important division.
After Earth, Sony's failed attempt at a spring blockbuster, flopped at the box office with just $59 million in domestic ticket sales. That's very low for a film that stars Will Smith and cost $130 million to produce.
Sony's end-of-the-world theme continued with This is the End, an over-the-top comedy that has earned $88 million on a budget of $32 million.
The Last of Us, Sony's long-awaited adventure game that's set in a post-apocalyptic world, has also been performing very well. An impressive 3.4 million copies were sold in just three weeks, making it the fastest-selling PlayStation 3 game of 2013.
Sony is also expected to ship more TVs to retailers, indicating that demand has begun to increase.
These are mostly good signs that could provide a boost to the firm's results results.
"We still expect good earnings progress in 1Q," Goldman Sachs wrote in a report last month. "We expect positive short-term news flow, but with no clear scenario for exiting a structure of shrinking electronics sales over the medium to long term, we maintain our Neutral rating."
Netflix
The streaming video giant will report its second quarter results on Monday, July 22.
With so much money being spent to acquire content, the big thing that investors will be looking for is an increase in Netflix (NASDAQ: NFLX) subscribers.
According to VentureBeat, Netflix managers have stated that the company does not plan to increase revenue by raising its rates again. Thus, it is imperative that the overall number of subscribers continue to increase.
While the company took a hit in 2011 (after announcing the last price increase), Netflix has been growing fairly steadily ever since.
In the first quarter alone, Netflix added three million subscribers. Two million of those users were domestic.
Netflix had a total of 36 million subscribers when it published its last earnings release. It could have millions more this quarter.
Piper Jaffray estimates that Netflix will post revenue of $1.06 billion and an EPS of $0.43 for the June quarter. This is a solid improvement over the year-ago period, when Netflix earned $889 million in revenue and posted an EPS of $0.10.
Google
When Google (NASDAQ: GOOG) reported its first quarter results, CEO Larry Page made an impressive announcement.
"We had a very strong start to 2013, with $14.0 billion in revenue, up 31 percent year-on-year," he said, as quoted in the earnings release.
Since that announcement on April 18, shares of Google have risen nearly 15 percent.
The company is expected to post record-breaking results again this quarter. Unfortunately, they could still fall below the lofty expectations of some analysts.
Regardless, Google is still one of the hottest stocks in technology, rising more than 61 percent over the last 12 months.
"We are modeling consolidated revenue and non-GAAP EPS of $14.35bn and $10.36, versus consensus of $14.45bn and $10.79," Goldman Sachs wrote in a report. "We are forecasting Google stand alone revenue of $13.32bn (+2% qoq and +16% yoy), in line with consensus. For Motorola, we are modeling $1.03bn versus consensus of $1.06bn. We are forecasting non-GAAP operating margins of 29.7% versus consensus of 30.0%."
Google posted revenues of $12.21 billion and an EPS of $10.12 during the second quarter of 2012.
Apple
Will Apple (NASDAQ: AAPL) ever have another record-breaking quarter that is impressive enough to silence the firm's biggest critics?
That seems unlikely, especially now that some analysts have applied their pessimistic outlook to Samsung (OTC: SSNLF).
"It's hard because the entire market has a real saturation problem," James Faucette, Senior Research Analyst of Mobile and Payments Technologies at Pacific Crest, told Benzinga. "If you look at Samsung -- Samsung put out disappointing results. HTC put out disappointing results.
"We don't know what Nokia (NYSE: NOK) did in the second quarter yet but their first quarter was disappointing."
Having sold so a record-breaking number of iPhones and iPads in the March quarter (as stated above), it will be interesting to see if Apple can continue the trend when it reports its third fiscal quarter results on Tuesday, July 23.
ABG Sundal currently estimates that Apple will post quarterly revenue of $34.6 billion. This is not only lower than the year-ago period -- it would be the lowest quarter Apple has had in nearly two years.
This would also weigh on the company's EPS, which would fall to $7.10.
During third fiscal quarter in 2012, Apple posted revenue of $35 billion and a net profit of $8.8 billion -- or $9.32 per share.
Canaccord Genuity estimates that Apple will earn $34.59 billion in revenue during the fiscal third quarter this year. The researcher's Q4 outlook of $37.86 billion is not much better.
"We expect an in line CQ2 but light CQ3 guidance," Jefferies wrote in a July 11 report. "We shift 1M of iPhone shipments from our CQ3 estimate to CQ2 due the timing of Apple's channel inventory adjustments. We estimate iPhone channel inventories fall by 2M in CQ2 and are flat in CQ3 with sell-through of 28M in CQ2 and 26M in CQ3 leading to shipments of 26M each Q."
Nokia
While Nokia's first quarter results may have been "disappointing" to analysts like James Faucette, the company increased the volumes of its Lumia handset series by 27 percent. This resulted in sales of 5.6 million units.
That is a far cry from the 37.4 million iPhones that Apple sold during the same sales period, but it is positive growth for a company that has been struggling to stay relevant.
Up until recently, Nokia was a last-generation company. The firm's initial batch of smartphones did not help turn the tide. This was partially brought on by Nokia's past, which includes mistakes as memorable as the N-Gage.
Apple and Samsung had the luxury of coming to the smartphone industry without an embarrassing past. In fact, before the Galaxy series arrived, Samsung was known for building top-notch TVs that were cheaper than comparable sets manufactured by Sony. Before the iPhone, Apple was well known for creating the iPod.
This made it easier for them to market their devices as "cool" items that attract young and modern consumers.
Nokia has had to work very hard to overcome its stigma. It has had to work even harder to persuade consumers to buy a Windows 8-based handset over one that uses Android or iOS.
Can Nokia continue to improve Lumia sales this quarter? The answer will be revealed on Thursday, July 18.
"We are marginally positive going into Nokia 2Q13 results as we believe Lumia 520 has been performing well in some markets & at some operators," JPMorgan wrote in a July 12 report. "Nokia guided to smartphone units rising above 27% QoQ in 2Q which translates to 7.1m+ whereas the consensus is 7.9m units, equivalent to 41% QoQ growth in units."
JPMorgan estimates that Nokia will post second quarter revenue of €6.2 billion versus €7.5 billion during the year-ago period. JPMorgan also anticipates an EPS of -€0.02, which is in line with consensus. That would actually be an improvement over the -€0.08 EPS incurred during the second quarter of 2012.
Louis Bedigian is the Senior Tech Analyst and Features Writer of Benzinga. You can reach him at 248-636-1322 or louis(at)benzingapro(dot)com. Follow him @LouisBedigianBZ
Posted-In: AppleEarnings Long Ideas News Short Ideas Success Stories Tech Trading Ideas Best of Benzinga
View Comments and Join the Discussion!