Samsung Falling Victim to Same Economic Headwinds as Apple (AAPL, SSNLF)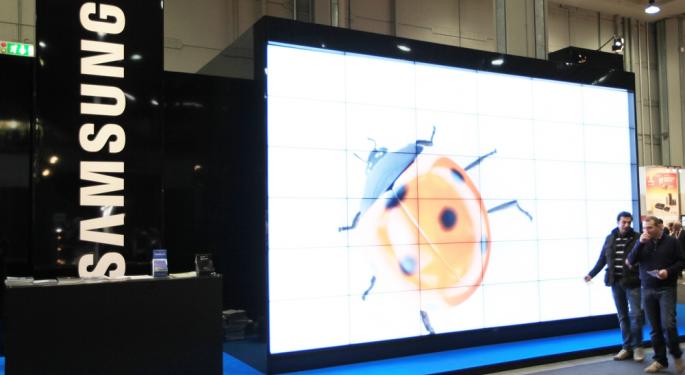 While you were sleeping off a fun-filled July 4 bash, Samsung (OTC: SSNLF) was reporting earnings guidance and despite double-digit growth that was the highest in history, the stock sold off nearly four percent. The story is eerily familiar to that other smartphone maker everybody loves to talk about.
South Korea-based Samsung announced that on July 26, it would report operating profit of $8.1 billion to $8.5 billion for the three month period that ended in June. That's a year over year increase of 44 percent with sales rising at least 18 percent to around $50 billion.
But the stock sold off nearly four percent on what seems to be good news. Analysts were expecting better. The guidance falls short of the $8.8 billion consensus forecast causing all of the same worries that Apple (NASDAQ: AAPL) is enduring to fall on Samsung.
First, the Samsung's S4, the phone that people were anxiously awaiting, has fallen short. From its debut, people were unimpressed, calling it something of an incremental upgrade similar to Apple's debut of the iPhone 5.
Then there's the expectation gap. Jung Sang-jin, a fund manager at Dongbu Asset Management, said, "Yet I think Samsung has some exciting stuff up its sleeves. The problem is no one is sure whether these products can really wow investors and consumers."
Related: Apple's Cheap iPhone Reportedly Confirmed by Parts Supplier
Again, sound familiar? Everybody knows that Apple has plenty in its product pipeline but investors and consumers alike have doubts over the company's ability to bring the "WOW" factor.
Multiple reports indicate that in China and other Asian markets, consumers are ditching the decked out smartphone for a more stripped down, cheaper phone. The question on the minds of investors--will this trend make its way to the United States?
Nokia (NYSE: NOK) unveiled two basic phones this week that sell for $68 and more evidence is mounting that Apple will unveil a cheaper version of its iPhone sometime this year although cheaper by Apple standards may not be enough.
"There's still a big uncertainty about how Samsung will respond to the low-end market," said Brian Park, an analyst at Tong Yang Securities to Reuters. The company reportedly has plans to launch a cheaper phone but based on the not-so-well-known Tizen operating system.
While Samsung hasn't suffered as much as rivals, its stock is down 12 percent this year compared to Apple's 21 percent and Blackberry (NASDAQ: BBRY)'s 19 percent.
What's clear is that the macro environment in the cell phone space is changing and major manufactures haven't yet figured out how to capitalize on those shifts. Bigger doesn't appear to be better anymore and consumers are clearly not going to reward any product that isn't a major paradigm shift.
Disclosure: At the time of this writing, Tim Parker was long Apple.
Posted-In: Apple Blackberry Brian ParkEarnings News Rumors Global Tech Best of Benzinga
View Comments and Join the Discussion!