Earnings Expectations for the Week of June 24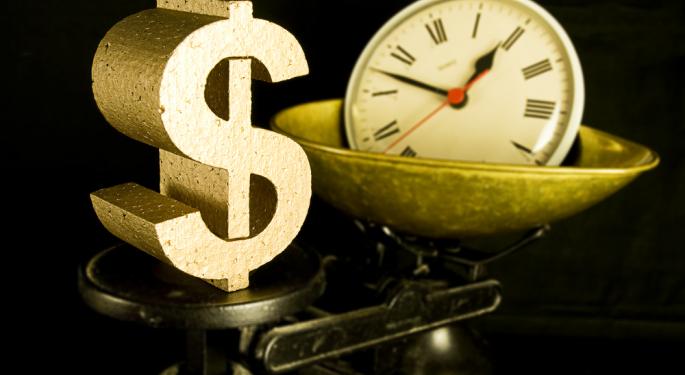 Quarterly reports from Nike (NYSE: NKE), Walgreen (NYSE: WAG) and BlackBerry (NASDAQ: BBRY) will be among the highlights on the earnings front this week.
Here is a quick look at what analysts are expecting from these and some of the week's other, most prominent earnings reports.
See also: Weekly Preview: Economic Data Takes Center Stage In Earnings Lull
Nike
This leading supplier of athletic shoes and apparel expected to say that earnings came to $0.75 per share for its fourth quarter of fiscal 2013.That would be up from $0.59 per share in the year-ago period. Revenues for the quarter are estimated to be less than three percent higher to $6.64 billion.
The full-year forecast calls for earnings per share (EPS) of $2.68 on $25.32 billion in revenue. That would be up from $2.37 per share and $24.13 billion in the previous year. Note that this consensus EPS estimate has ticked up by a penny over the past 60 days. Look for the earnings report Thursday afternoon.
Walgreen
In its report before the markets open Tuesday, Walgreen is expected to post fiscal third-quarter earnings that were almost 21 percent higher than in the year-ago period to $0.91 per share. Note that the consensus estimate was a penny higher some 60 days ago. And while Walgreen narrowly beat EPS expectations in the previous period, it fell short by more than 17 percent in the period before that.
Revenues from the largest drug retailing chain in the United States are predicted to total $18.45 billion for the most recent quarter. That would be almost four percent higher than a year ago.
BlackBerry
Fiscal first-quarter earnings from the former Research In Motion are forecast to come to $0.03 per share in Friday morning's report. That compares to a net loss of $0.37 per share in the year-ago period. Earnings results were better than expected in the previous three quarters.
Yahoo! Finance currently does not list any quarterly revenue estimates for this Canadian wireless and telecom company. Revenue in the most recent quarter came to $2.67 billion, down from $2.72 billion in the same period a year ago. Annual revenue totaled $11 billion, down from $18.4 billion a year earlier.
General Mills
Fourth-quarter fiscal 2013 earnings from General Mills (NYSE: GIS) are expected to be $0.53 per share, on revenues of $4.32 billion. In the same quarter of the previous year, this maker of Cheerios just beat consensus EPS estimates when it posted $0.60 on sales of $4.07 billion.
The forecast for the full year has EPS about five percent higher year-over-year to $2.70, while revenues have grown more than six percent from a year ago to $17.69 billion. The full-year consensus EPS estimate is a penny higher than a 60 days ago, while that for the quarter has slipped by a penny. Look for the earnings report first thing Wednesday morning.
Monsanto
Agricultural biotechnology giant Monsanto (NYSE: MON) is expected to report Wednesday before the opening bell that for its fiscal third quarter it had $1.61 EPS and $4.42 billion in revenue. In the same period of the previous year, it posted $1.63 per share, while sales totaled $4.22 billion.
Analysts underestimated Monsanto's EPS results in all but one of the past six quarters. But note that the consensus EPS estimate has slipped in the past 60 days from $1.69. Also, a seasonal net loss is expected for the current quarter.
Lennar
In its Tuesday morning report, home builder Lennar (NYSE: LEN) is expected to report that fiscal second-quarter EPS tumbled from $2.06 a year ago to $0.33. That consensus estimate is unchanged over the past 60 days, but per-share earnings exceeded consensus estimates by more than 25 percent in the previous four quarters.
Revenues from this Miami-based company, though, are forecast to total $1.33 billion for the most recent quarter. That would be up more than 42 percent year-over-year. So far, revenue is predicted to be more than 57 percent higher in the current quarter and up almost 44 percent for the full year.
And Others
Others predicted to report year-over-year earnings growth this week include Bed Bath & Beyond (NYSE: BBBY), ConAgra Foods (NYSE: CAG), McCormick & Co. (NYSE: MKC), Smith & Wesson (NYSE: SWHC) and Winnebago (NYSE: WGO).
But earnings declines are expected from Apollo Group (NASDAQ: APOL) and Carnival (NYSE: CCL). And Barnes & Noble (NYSE: BKS) is expected to post a net loss.
The following week, keep an eye out for quarterly reports from Constellation Brands (NYSE: STZ) and more.
View Comments and Join the Discussion!
Posted-In: Apollo Group Barnes & Noble Bed Bath & Beyond BlackberryEarnings News Previews Trading Ideas Best of Benzinga