Interesting Insider Trade Ahead of Micron Earnings (MU)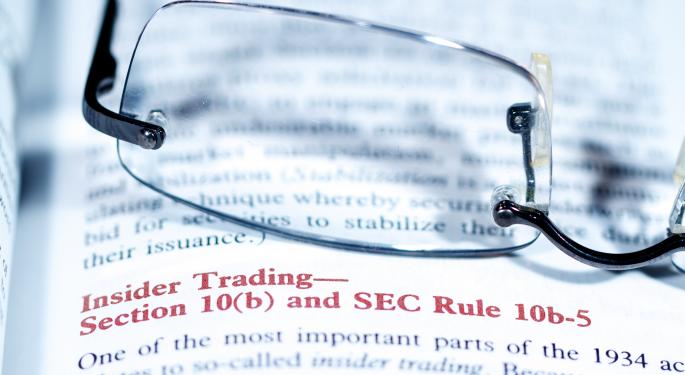 Insider trades can tell a lot about a company.
Generally, insider buying on a net basis (when buys outnumber sells) implies that a stock will go up while insider sells generally mean that a stock will fall. One set of insider transactions just two days before Micron Technology (NASDAQ: MU) was scheduled to report earnings caught the attention of the Benzinga news desk in particular.
Insider Profile
Scott J. DeBoer, listed as the Vice President of Research and Development, made some interesting trades Monday as part of a scheduled 10b5-1 plan. For those who do not know, a 10b5-1 plan is a plan where an executive of a company plans to sell a given amount of stock over the course of a year and discloses so at the onset of the plan. However, these sales were the first to be disclosed under the plan, according to SEC filings, and so questions still remain.
His profile on the company's website reads, "Scott DeBoer is the Vice President of Research & Development at Micron Technology. Dr. DeBoer leads Micron's technology development efforts related to the scaling of current memory technologies (DRAM, NAND, NOR, PCM), as well as the investigation of new memory technology solutions, packaging and mask technology to support Micron's future requirements." He has been at the company since 1995.
Sale Disclosures
So far since the start of 2013, and actually only since April 23, Dr. DeBoer has sold 196,250 shares of Micron stock. On a net basis, after subtracting the one purchase he also made on April 23, he has sold a net 60 shares.
However, on Monday, June 18, Dr. DeBoer disclosed that he sold 40,000 shares of Micron stock at prices ranging between $13.16 and $13.4603 per share. Before the sales, he had 319,173 shares of stock, according to the filing, and thus sold 12.53 percent of his stock TWO DAYS BEFORE HIS COMPANY IS EXPECTED TO REPORT EARNINGS.
No Comment
The company's media relations representative was unreachable when contacted by Benzinga and any comment will be shared shortly after it is received. Nevertheless, the sales so close to earnings, the first of a supposedly scheduled plan, raise questions as to what the earnings will show on Wednesday.
Earnings Expectations
Micron is expected to report fiscal third quarter earnings per share of $0.02 compared to a loss of $0.32 a per share a year ago. Revenue is expected to grow 3 percent to $2.24 billion from $2.17 billion a year ago.
Micron shares rose about three percent in late Tuesday trading heading into the close to $13.63 per share.
View Comments and Join the Discussion!
Posted-In: Scott J. DeBoerEarnings News Previews Insider Trades Intraday Update Markets Trading Ideas Best of Benzinga