Smithfield Foods Fails to Bring Home the Bacon as Earnings Disappoint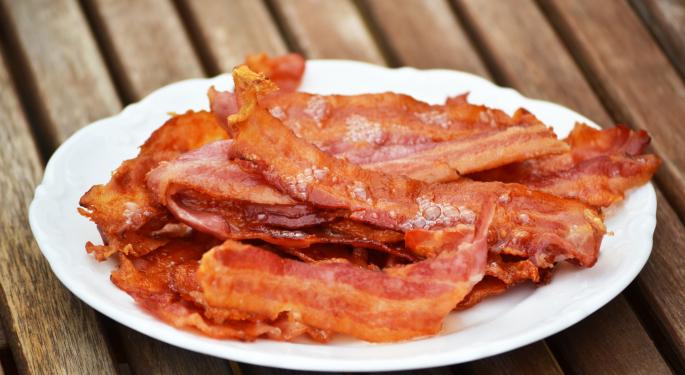 Recently acquired Smithfield Foods (NYSE: SFD) reported fourth quarter and full year earnings per share that missed analyst forecasts. Revenue was slightly higher in the periods though and the company did update investors on the state of its recently announced takeover by Chinese company Shuanghui International.
Fourth Quarter Results
For the fourth quarter of 2013, Smithfield foods reported weak earnings per share of $0.21 vs. the expected $0.41, missing by 48.7 percent. Earnings per share declined 57 percent from a year ago when the company earned $0.49 per share in the fourth quarter.
Revenue did grow 3.3 percent in the quarter compared to the same period a year ago. Smithfield reported revenue of $3.32 billion which exceeded the consensus analyst estimate of $3.27 billion by 1.53 percent.
Fiscal Year Results
For the full fiscal year 2013, Smithfield Foods reported adjusted earnings per share of $1.80, weaker than the consensus forecast of $2.00 by 10 percent. Earnings per share declined 30.5 percent from the prior year when the company earned $2.59 per share.
Revenue for the full fiscal year also saw growth as in the fourth quarter. Revenue grew 1 percent from the same period a year ago to $13.2 billion which edged out the consensus analyst estimate of $13.7 billion by 3.6 percent.
Shuanghui Acquisition
The company also updated investors on the recent announcement that the company is set to be taken over by Chinese company Shuanghui International. "As previously announced on May 29, 2013, Smithfield and Shuanghui International Holdings Limited ("Shuanghui") entered into a definitive merger agreement that values Smithfield at approximately US$7.1 billion, including the assumption of Smithfield's net debt. Under the terms of the agreement, which has been unanimously approved by the boards of directors of both companies, Shuanghui will acquire all of the outstanding shares of Smithfield for US$34.00 per share in cash."
Full Year Segment Performance
In the fresh port segment, the company noted that margins declined to 3 percent from the prior year due to increased domestic volumes. Exports did grow 4 percent year over year and the company processed 3 percent more hogs than in the prior year.
Packaged meats were a strong spot for the company as margins expanded to 8 percent in the year. Meanwhile, hog production was a weak spot for the company as declining prices weighed on margins and the international segment was affected by slow global growth.
Management Discussion
"Driven by both top and bottom line growth in packaged meats, these earnings reflect our continued transformation into a more value-added consumer packaged meats company. For the full year, packaged meats operating profit increased nearly $70 million, or 17%, year over year and volume was up 4%. Our core brand volume grew even more substantially, up 5%," said C. Larry Pope, president and chief executive officer.
"Double-digit gains were realized for Smithfield bacon, Armour dry sausage, and Smithfield and Farmland marinated pork. In the deli channel, our Eckrich deli meats also finished the year up double-digits," Mr. Pope commented.
"Fiscal 2013 was a challenging year in hog production with higher grain prices due to last summer's drought and, more recently, export market disruptions. For the industry, pork exports were down to nearly every major market in the fourth quarter with volumes to China and Russia falling over ractopamine certification requirements and the weakening yen resulting in lower shipments to Japan. This decline in pork exports pushed production back onto the domestic market and negatively impacted our hog production and fresh pork businesses in the fourth quarter."
Commenting on the restructuring plan, Mr. Pope said, "We believe in this plan's ability to deliver broad-based gains in volume, market share and distribution across our core brands and key product categories. The combination of those gains, an improving product mix toward differentiated, branded and value-added products, as well as loosening export market restrictions in our fresh pork business and higher contributions from our international meat processing business, should provide significant long-term growth potential for Smithfield."
Posted-In: Earnings News Guidance Pre-Market Outlook Press Releases Best of Benzinga
View Comments and Join the Discussion!