ABM Industries Reports Better Second Quarter Earnings as Revenue is Slightly Lower, Raises Guidance for Full Year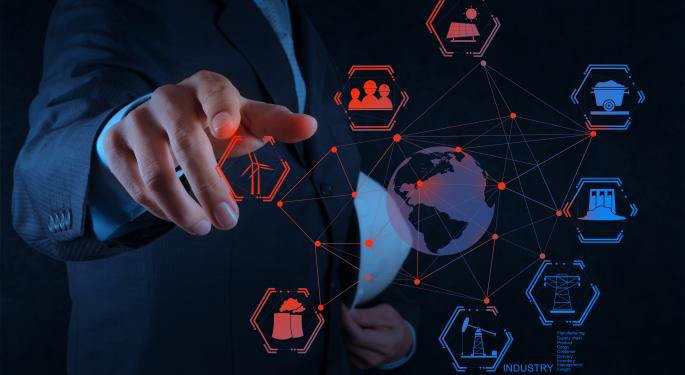 ABM Industries (NYSE: ABM) reported fiscal second quarter earnings that beat analyst expectations as revenue came in just shy of estimates for the quarter. The company also raised its guidance forecast for the full year.
Data Breakdown
For the fiscal second quarter of 2013 ended April 30, 2013, the company reported that adjusted earnings per share was $0.36 compared to the consensus Wall Street forecast of $0.33, representing a beat of 9.09 percent. A year ago, the company reported earnings per share for the same period of $0.30, representing 20 percent annual growth in earnings per share for the quarter.
On the revenue side, the company reported that revenue was $1.17 billion in the quarter, 0.85 percent below the consensus forecast of $1.8 billion for the quarter. Revenue was higher than a year ago, when the company reported revenue of $1.06 billion.
Guidance
The company also raised its guidance for the full year in the report. The company now expects to earn $1.40-$1.50 per share in the fiscal year 2013 as compared to its previous forecast of $1.35-$1.45 per share. The consensus Wall Street forecast has the company earning $1.40 per share in the year.
Management Comments
Upper management commented on the previous quarter in the press release. "We are very pleased with our second quarter performance, which highlights our success in driving top and bottom line growth," said ABM's president and chief executive officer Henrik Slipsager. "Our 11% increase in revenue was due to the strength of our acquired businesses and organic growth from our Janitorial, Facility Services and Security segments. I am encouraged by the fact Janitorial surpassed 2% organic growth and Facility Services achieved another quarter above 8%."
"Sales in the Building & Energy Solutions segment increased 8.4% due to acquisitions. With recent project wins, a strong sales pipeline, and an improving economy, the Company is well positioned for sustained growth. We were recently selected as the official cleaning services partner of The O2 in London, one of the world's largest and most notable entertainment destinations. In addition, during the second quarter, we entered into a joint venture with Building Energy, an Italian-based independent power producer, significantly expanding our solar and distributed energy capabilities in large-scale commercial and utility-scale solar power markets."
Slipsager continued, "Adjusted income from continuing operations improved $3.9 million, or nearly 24%, due to contributions from the recent acquisitions and new sales. As expected, we received an approximately $0.04 per diluted share benefit from lower labor expense as a result of one less working day in the second quarter of fiscal 2013, although this was largely offset by a higher tax rate of 39.2% compared to 33.3% in the second quarter of 2012."
"The quarter also generated over 28% growth in Adjusted EBITDA, which increased to $52.0 million compared to $40.5 million in the year-ago quarter. On a reported basis, we achieved a 65% increase in net income, partially due to a $3.2 million after-tax reduction in legal fees compared to the prior year."
James Lusk, executive vice president and chief financial officer, added, "The Company's strong cash flow generation in the second quarter, which on a year-over-year basis was up 13% to $49.3 million, enabled us to reduce debt levels and we ended the second quarter with $384 million of borrowings under our credit facility, down $39 million from $423 million in the prior quarter."
Slipsager concluded, "We are continuing to lay the foundation for more revenue and profit growth in the future and look forward to sequential improvement in the back half of the year, particularly in the fourth quarter. Our recently acquired businesses are exceeding expectations and we are leveraging these investments and our core businesses to pursue growth opportunities in new sales, vertical markets and client expansion. With our efforts to rebrand and realign the business to better capture these market opportunities and increase productivity, our team is making progress collaborating on sales leads and in cross selling our services, particularly in the South Central region, where the integration and consolidation initiatives are well underway."
"We expect to begin reorganizing our Northeastern and Midwest markets in the third quarter and remain on track to reduce expenses by $3.5 million to $4.0 million in fiscal 2013. As previously communicated, we are investing these savings in our sales organization and in key initiatives we have developed to drive future growth. "
Dividend Declared
The board of directors of ABM declared a $0.15 per share quarterly dividend payable on August 5 to shareholders of record of July 5. The dividend is the same as the prior quarter and is the 189th consecutive quarterly dividend.
Market Impact
Shares of ABM rallied in after-market trading following strong gains during the day. The stock added 3.33 percent after rising 1.74 percent in intraday trade following the earnings release.
Posted-In: Earnings News Guidance Dividends After-Hours Center Markets Press Releases Best of Benzinga
View Comments and Join the Discussion!