Small-Cap Trading Alert: Margin Expansion Driving Turnaround at Zale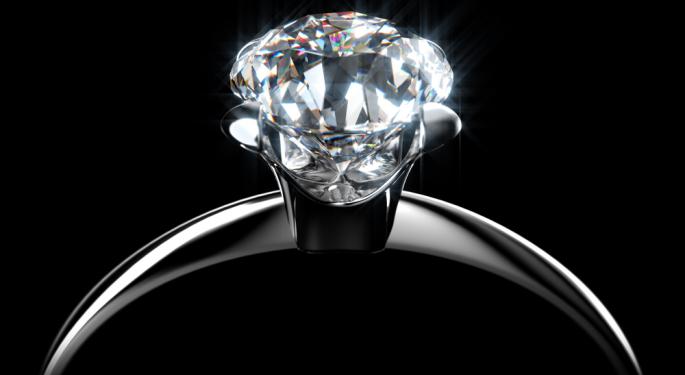 The 2008 financial crisis took a large toll on thousands of U.S. businesses as plunging demand caused sales and net income to fall off a cliff across most industries. Jewelry retailer Zale (NYSE: ZLC) was among the hardest hit publicly traded companies with the stock falling from above $30 in September 2008 to below $4 by the beginning of 2009. As conditions continued to deteriorate, Zale briefly traded under $1.00 in early March before rebounding.
Unlike many other stocks, Zale shares have been unable to bounce back to anywhere near pre-financial crisis levels. In recent years the company has been beset by losses and choppy revenue trends. A lackluster economy, combined with secular challenges within the jewelry business, have kept Zale shares trading in a volatile range between $2.00 and $7.00 over the last several years.
Despite being a well-known jewelry brand with a significant marketing presence, the company is firmly entrenched in the small-cap space with a market-cap of just $214 million. There are signs, however, that Zale is on the verge of an operational turnaround which could send the stock above its long-term trading range and lead to big profits for investors.
Revenue bottomed out in fiscal 2010 and the company has posted modest sequential increases in 2011 and 2012. Analysts are estimating that this trend will continue in 2013 and 2014, although the anticipated growth is very conservative. Sales are expected to be up less than 1 percent in 2013 followed by a gain of 2.30 percent in fiscal 2014. Although these figures are hardly exciting, they do suggest that stability has at least been restored.
The catalyst that could potentially trigger a rally in the stock going forward is increased efficiency at the company which is driving higher margins and profit. For the first three quarters of 2013, Zale has reported a profit after losing money for three out of the four quarters in fiscal 2012. Furthermore, the company expects to be profitable for the year after reporting a loss in each of the last four years.
Investors are beginning to acknowledge the operating turnaround at Zale, which became ever the more obvious after the company released its Q3 financial results on Wednesday morning. The Irving, Texas-based company reported net income of $5 million or $0.13 per share, compared to a net loss of $5 million or $0.14 per share, in last year's third-quarter.
The profit came as a surprise to Wall Street. Heading into the key report, analysts had consensus EPS estimates calling for a loss of $0.02. In the wake of the very strong earnings, Zale shares soared around 22 percent to close at $6.60.
On the revenue front, Zale's Q3 results were less impressive. The company recorded sales of $443 million, a slight decrease versus the $445 million Zale reported last year. This came up just short of consensus sales estimates of $443.83 million.
Despite missing expectations, the jeweler reported that comparable store sales were up 1.4 percent in the quarter. While this is hardly explosive growth, it does underscore the stabilization of the business -- which is allowing management to focus on initiatives designed to increase margins. For the quarter, gross margin rose to 52.6 percent from 51.3 percent last year.
Zale is a notoriously volatile stock due to its small market-cap and history of reporting choppy financial results. Nevertheless, the shares are now up around 200 percent over the last 52-weeks and a further rally could push the stock up and out of its multi-year trading range. The 52-week high in the name is only around 16 percent higher at $7.66. A breakout above this level could be the start of an even larger move driven by profit growth at the company.
Currently, analysts are projecting that Zale will report EPS of $0.12 for fiscal 2013 followed by an estimated 167 percent jump to $0.32 in 2014. Using these estimates, the stock is currently trading at a little less than 21 times next year's earnings. Due to a large degree of uncertainty, it is hard to argue that this is a cheap valuation. This is particularly true considering the string of recent annual losses and sluggish revenue growth at Zale.
Conversely, it is also fairly easy to envision a scenario where the current earnings momentum accelerates and the stock trades above $10 at some point in the future. What is clear is that management is doing a good job of making the business more efficient. This has resulted in higher margins and a transition to profitability. Going forward, this is a name that small-cap investors with a healthy dose of risk appetite will want to keep an eye on.
Posted-In: Earnings Long Ideas News Short Ideas Small Cap Analysis Technicals Movers Trading Ideas Best of Benzinga
View Comments and Join the Discussion!