AutoZone Cruises Uphill on Successful Third Quarter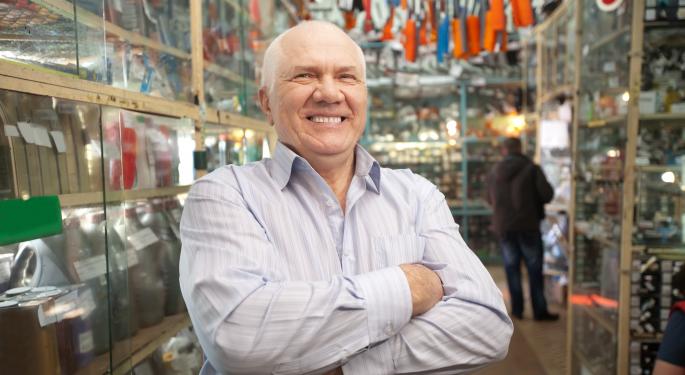 AutoZone (NYSE: AZO) is riding uphill on Tuesday after posting successful third-quarter earnings and matching revenue estimates.
The Memphis-based firm's EPS rose 15.7 percent year-over-year to $7.27, beating expectations of $7.23.
Revenue increased 4.5 percent to $2.2 billion, finishing about even with the Wall Street consensus.
Web Traffic Spikes
AutoZone's "all other" segment, consisting of ALLDATA, AutoAnything and E-commerce, spiked approximately 80 percent during the quarter. The surge was likely due to its acquisition of ALLDATA in December, which gave it an additional revenue stream versus Q3 2012.
Meanwhile, total auto parts sales, which accounted for 96.5 percent of the company's third-quarter business, increased a more modest 2.9 percent.
Heavier Traffic in North America
America's leading distributor and retailer of automotive replacement parts and accessories added a net of 32 stores domestically for a total of 4,767. And, it relocated three others.
On the Mexican front, the auto parts giant opened seven stores for a total of 341.
Meanwhile, its store count in Brazil remained at one, leavings its worldwide presence at 5,109 stores.
New Board Member Takes the Wheel
On February 7, AutoZone announced the election of Linda A. Goodspeed to its board of directors. Goodspeed also serves as senior VP and CIO of TheServiceMaster Company, which operates the popular Terminix brand along with several others. Prior to her role at TheServiceMaster Company, she served as VP of information systems for Nissan North America (OTC: NSANY).
New SVP Riding Shotgun
On April 1, Albert Saltiel joined the company as senior VP, marketing, customer satisfaction. Saltiel joined AutoZone from Navistar International Corporation (NYSE: NAV), where he held the chief marketing officer position. Prior to that, he served as general manager, marketing at Sony (NYSE: SNE) and held multiple marketing positions at Ford (NYSE: F).
Higher Octane Needed?
TMC News recently reported that AutoZone has the lowest revenue per employee in the automotive retail industry at $138,000. Monro Muffler (NASDAQ: MNRO) is slightly higher at $144,000 while Pep Boys (NYSE: PBY) is at $166,000 per employee, as noted TMC News.
O'Reilly Automotive (NASDAQ: ORLY) and Advance Auto Parts (NYSE: AAP) rounded out the bottom five, per TMC News, with $199,000 and $214,000 per worker, respectively.
Accelerating on Wall Street
After peaking at an all-time high of just under $423.50 in intraday trading on May 10, AutoZone dipped close to $409 by the end of trading on Monday. However, with its successful third quarter, the stock has risen to about $417 in the morning hours of trading.
AutoZone is up around two percent on Tuesday.
Posted-In: Albert Saltiel Linda A. Goodspeed TheServiceMaster CompanyEarnings News Best of Benzinga
View Comments and Join the Discussion!