Get on Disney World Rides Faster - Hire the Handicapped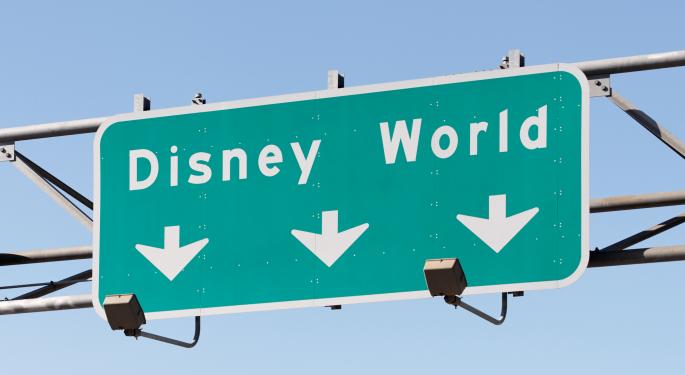 Some stuff you just can't make up.
The New York Post ran a story Tuesday about wealthy Manhattan moms who are escaping the long lines at The Walt Disney Co.'s (NASDAQ: DIS) Disney World by hiring disabled people to pose as family members.
The Post story said rich moms with impatient kids hire disabled tour guides for $130 an hour, or $1040 a day.
Although, Disney Tours offers a VIP guide and fast passes for $310 to $380 per hour, those "in the know" seem to prefer the black-market version for about one-third the cost.
Said one mom, who booked a guide through Dream Tours Florida, "My daughter waited one minute to get on 'It's a Small World' — the other kids had to wait 2 1/2 hours," adding, "This is how the 1 percent does Disney."
It almost seems like the stuff of urban legend. Not so, said Dr. Wednesday Martin, social anthropologist who discovered the scheme while conducting research for her upcoming book "Primates of Park Avenue."
"It's insider knowledge that very few have and share carefully," Dr. Martin said.
 "Who wants a speed pass when you can use your black-market handicapped guide to circumvent the lines all together?" she told the New York Post.
Ryan Clement and his girlfriend, Jacie Christiano, who, according to Clement, has an autoimmune disorder that requires her to use a scooter with a "handicapped" sign on it, run Dream Tours Florida.
By hiring Christiano, aka, Dream Tours, wealthy visitors get to ride the scooter and enter rides through special handicapped-accessible auxiliary entrances.
Disney policy allows guests who require a wheelchair or motorized scooter to bring up to six guests with them through these "more convenient entrances."
Disney, according to CNN, said it was looking into the report.
Bryan Malenius, Disney representative, told CNN, "It is unacceptable to abuse accommodations that were designed for guests with disabilities. We are thoroughly reviewing the situation and will take appropriate steps to deter this type of activity."
Social media, as it often does, went nuts when the story became public. Most called the alleged actions of the wealthy, "crazy," "awful," and "despicable." Or worse.
Others defended the practice, saying it helps disabled people make good money. One posting on CNN's website said, "$1040 for a day spent having fun -- not a bad job. Pretending they are part of the family isn't a good example for the children, but providing work for someone who is disabled isn't a bad thing to do."
It's unclear how long the practice has been taking place.
What is clear is that there is a potential economic impact to all this. First, Disney could lose revenue from their VIP guide and fast pass operation.
There's also the potential impact of "lost good will" if people decide Disney isn't doing enough to stop the gaming of the system.
Moreover, any significant reduction in tourism, especially as related to a sense of "unfairness," could spread to the whole industry and include parks such as Comcast (NASDAQ: CMCSA) owned Universal Orlando.
Also affected could be lodging such as Intercontinental Hotels Group (NASDAQ: IHG) chains like Holiday Inn and travel providers such as Southwest Airlines (NYSE: LUV).
While it's unlikely that the story will have such widespread implications, there are plenty of examples of something that started small becoming much bigger. Remember chic-fil-a?
Disney was trading early Friday at $66.34, down slightly. Comcast was selling for $42.70, also down slightly. Shares of Intercontinental Hotels Group were going for $29.53, off about $.04 and Southwest was $14.38, up 1.5 percent.
At the time of this writing, Jim Probasco had no position in any mentioned securities.
View Comments and Join the Discussion!
Posted-In: Comcast CorporationEarnings News Rumors Topics Events Media General Best of Benzinga