Green Mountain Coffee Roasters Flying High Again!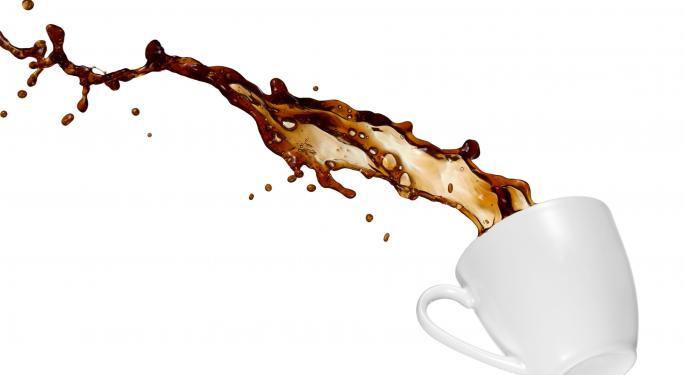 Shares of Green Mountain Coffee Roasters (NASDAQ: GMCR), the fast-growing Waterbury, Vermont-based maker of the Keurig brewing system, were among the leaders on the Nasdaq on Thursday.
In afternoon trade, the stock was up around 26 percent to just below $76.00. Earlier in the session, GMCR hit a new 52-week high of $76.04.
The catalyst for the huge move in the stock was the company's fiscal second-quarter earnings results and the announcement of an expanded partnership with Starbucks (NASDAQ: SBUX). It would also appear that short-sellers are helping to supercharge the move in GMCR as more than 26 percent of the company's float had been sold short in recent days.
Green Mountain's Q2 earnings were well above consensus estimates and the company also raised its fiscal 2013 EPS guidance. Revenue, however, was light in the second-quarter and Green Mountain lowered its full-year sales projections. In light of the mixed financial results, analysts at Keybanc raised their price target on the stock to $80 and also increased earnings estimates for the company. Keybanc also reiterated its Buy rating on the shares.
While traders were pleased with the beat and raise quarter on the earnings front, the company's revenue guidance could be a cause for concern. What is unequivocally bullish for Green Mountain, however, is the announcement of an extended and expanded partnership with coffee giant Starbucks.
The deal sets in place a five-year agreement between the two companies whereby the number of Starbucks branded items made for Green Mountain's Keurig single-serve coffee brewing system will triple. Starbucks will sell K-Cup portions for its Seattle's Best Coffee, Torrefazione Italia coffee, Teavana Teas, and Starbucks Cocoa brands under the terms of the agreement.
Speaking on CNBC, Starbucks CEO Howard Schultz said, "We're going to do everything we can to promote the Keurig system and obviously Starbucks K-Cups and this is going to be a significantly lucrative deal for both companies." In a press release, Schultz revealed that sales of Starbucks K-Cup packs rose more than 75 percent year over year in March.
Green Mountain CEO Brian Kelly said "this agreement further strengthens our North American partnership with Starbucks and expands our relationship to explore global single-serve opportunities." On CNBC, he added that "this partnership with Starbucks is really a terrific thing for our business."
Although Starbucks launched its own single-serve brewing machine last year called the Verismo, Wednesday's announcement underscores the dominant positioning of Keurig in the marketplace. Although the two companies remain competitors, it is clear that there is a significant benefits to ongoing collaboration as well.
Due to exploding revenue on the back of the success of the Keurig and K-Cup businesses, Green Mountain has been a tremendous stock to own over the last 5 years, although the name has been very volatile. During that time frame, the shares are up better than 800 percent, but it hasn't all been smooth sailing. I
n the wake of a public short-selling campaign by famed hedge fund manager David Einhorn, slowing revenue growth, and significant competitive threats, the stock plunged from a high above $100 in September 2011 to a low of around $17 in July 2012. Since then, however, the shares have been soaring once again, rising more than 185 percent over the last year.
Thursday's price action and the bullish developments at the company suggest that it may only be a matter of time before GMCR climbs back above $100. For the second-quarter, the company reported adjusted earnings of $140.9 million or $0.93 per share. This crushed Wall Street analysts' consensus EPS estimates of $0.73 and underscores the accelerating earnings trends at GMCR.
Sales in the quarter were up 14 percent to $1.0 billion from $885.1 million in the year ago period. This came in slightly below consensus estimates of $1.02 billion. Looking ahead to Q3, Green Mountain guided for adjusted EPS of $0.71 to $0.78 versus current estimates of $0.65.
Revenue is expected to grow between 11 percent and 15 percent. For the full-year, the company raised its EPS guidance, but cut its sales outlook. While the lower revenue guidance is worrisome, the raised earnings view shows that Green Mountain is operating more efficiently and increasing margins. Adjusted earnings per share are now expected to be between $3.05 and $3.15 versus its previous range of $2.72 to $2.82.
Sales growth for the fiscal year is now expected to be between 11 percent and 14 percent compared to its previous range of 15 percent to 20 percent growth. Currently, Wall Street is modeling EPS of $2.84 on revenue of $4.47 billion for the fiscal year.
Going forward, traders should expect activity in the stock to continue to be brisk as the market digests the Starbucks announcement and updated guidance. Given the large short interest in GMCR, the stock may continue to rise in the coming weeks as short-sellers close out their wrong-way bets. Right now, it would appear as if last year's bumpy ride for shareholders is a thing of the past and that Green Mountain has regained its winning ways once again.
Posted-In: Earnings Long Ideas News Guidance Short Ideas Technicals Intraday Update Movers Best of Benzinga
View Comments and Join the Discussion!