Fossil Soars on Fashionable Earnings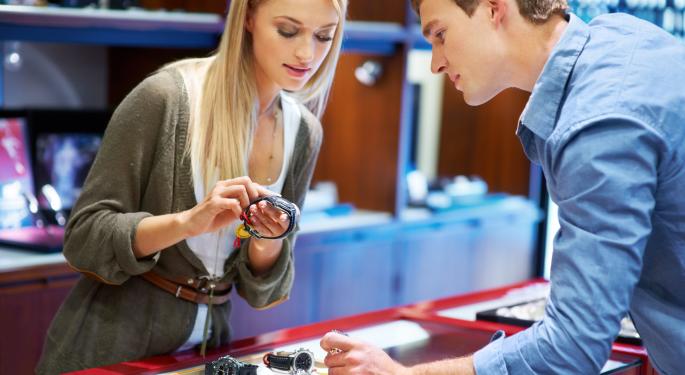 Fossil (NASDAQ: FOSL) is riding high on Tuesday after posting record first-quarter earnings.
The Richardson, Texas-based firm's EPS rose 30 percent to $1.21, crushing estimates of $0.97.
Revenue jumped 15.5 percent year-over-year to $680.9 million, blowing away the $651 million analysts expected.
Fossil Fuels Worldwide Growth
Fossil experienced double-digit growth on all counts during the quarter.
Direct to consumer sales grew most, rising 22.3 percent to $165 million.
On the wholesale front, sales climbed most in Europe, rising 13.7 percent to $173.9 million.
North American wholesale revenue finished in a close second, rising 13.4 percent to $255.2 million.
Meanwhile, the fashion company's wholesale revenue in Asia-Pacific increased to $86.8 million - an gain of just over 13 percent.
Watch Out
Fossil's watch collection drove wholesale increases worldwide. The product line spiked 22.6 percent to $513 million, accounting for 75 percent of the global retailer's sales.
Jewelry sales grew a healthy 7.9 percent, as well, finishing at $42.3 million.
However, leathers declined a little over one percent to $102.8 million while the company's "other" products fell over 18 percent to $22.8 million.
More Fossils Discovered
Fossil's store count grew by leaps and bounds, rising approximately 20 percent within the past year. Its full price multi-brand store count grew most, jumping a whopping 61.5 percent to 21 stores. Outlets increased a substantial 52 percent, as well, to 160 locations.
The company's full price accessory and clothing stores remained about flat while it added 13 new Skagen locations - its first such sites.
Fossil now has 477 locations worldwide with just over half being in North America.
To Hell in a Handbag (and Back)
Fossil expects sales to grow eight to nine percent during the second quarter, which would leave it with $687 to $693.35 million. This would leave it short of the $696.15 million Wall Street consensus. And, the handbag retailer anticipates earnings of $0.89 to $0.94 - significantly short of the $1.05 analysts would like to see.
Full-year guidance, however, is a bit more high-powered. It expects sales to grow 10 to 11 percent, which would give it $3.14 to $3.17 billion - right in line with the $3.16 billion analysts anticipate. On the earnings front, the fashion chain believes it will net $6 to $6.26 per share which, at the middle-ground of $6.13, would edge the Wall Street consensus of $6.11.
A Warm Day on Wall Street
Despite its weak second-quarter guidance, Fossil is up big on Tuesday. The stock has, at times, reached the $108 mark, representing its highest point in a year. It has since fallen to around $106 as trading progresses, but is still up approximately seven percent on word of its successful first quarter.
Posted-In: Earnings News Guidance Best of Benzinga
View Comments and Join the Discussion!