General Motors Cruises to 21-Month High on Successful Earnings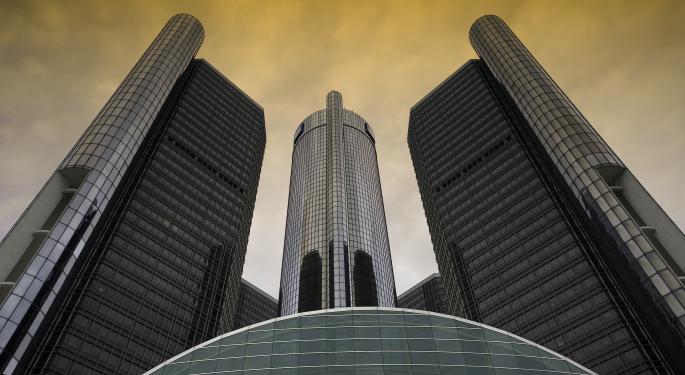 General Motors (NYSE: GM) has soared to a 21-month high after posting strong first-quarter earnings and revenue.
The Detroit auto giant's EPS declined over three percent year-over-year to $0.58, but topped estimates of $0.54.
Revenue closed down 2.4 percent at $36.9 billion, but edged the Wall Street consensus of $36.6 billion.
Sales and Revenues Slow Down Worldwide
GM sold less vehicles (except in its international operations segment) and generated less revenue on all fronts during the quarter.
In North America, the 105 year-old company sold 829,000 vehicles, marking a two percent decline from Q1 2012. Revenue declined less than one percent to $22.98 billion.
The company sold 6.4 percent less vehicles in Europe for a total of 249,000. It generated $4.82 billion on the continent, falling 8.3 percent from last year.
Sales in South America declined 1.7 percent to 233,000 vehicles, with revenue falling 4.5 percent to $3.69 billion.
In the rest of the world, sales remained flat at 243,000, with revenue declining just under four percent.
Drove My Chevy Over the Levee?
Chevy sales declined substantially during the quarter, with US car sales dropping 5.5 percent. Overall Chevy sales in Europe fell 8.2 percent while they dropped 5.3 percent in South America. In the rest of the world, sales held approximately flat.
Chevy crossovers and trucks did perform well, however, with US sales growing 10.6 and 22.5 percent, respectively.
Revving Up in the Far East
The Buick and Wuling brands fared very in the Asia/Pacific, Middle East and Africa segment, with 15.5 and 11.8 percent more vehicles sold during the quarter. It's fair to assume China played a large role on both counts, given the popularity of GM vehicles in the world's most populous nation. More Wuling vehicles were sold in this segment than all brands combined in Europe.
Trucking Ahead Everywhere Except South America
GM's US share increased a modest 0.5 percent to 17.7 percent, lead by significant gains in the crossover and truck markets. The company now claims 18.8 percent of the US crossover market and 24.2 percent of the truck market.
Overall, GM's North American market share edged up to 17.1 percent from 16.7 percent.
The world's 20th-largest company grabbed slightly more of the auto markets in Europe and its Asia/Pacific, Middle East and Africa segment, rising to 8.3 and 9.6 percent, respectively.
The only retreat occurred in South America, where GM lost over one percent of the market to finish at 17.2 percent.
Ran Over by Toyota
After holding the top spot through the entire lives of most people on Earth today, GM was edged by Toyota (NYSE: TM) in 2008. The companies have since jostled for position, with Toyota closing 2012 on top.
Cruising Uphill
GM has soared to its highest point since July of 2011 on word of its successful quarter. The stock is up around 3.5 percent on Thursday.
Posted-In: Earnings News Best of Benzinga
View Comments and Join the Discussion!