DTE Energy Posts Electrifying First Quarter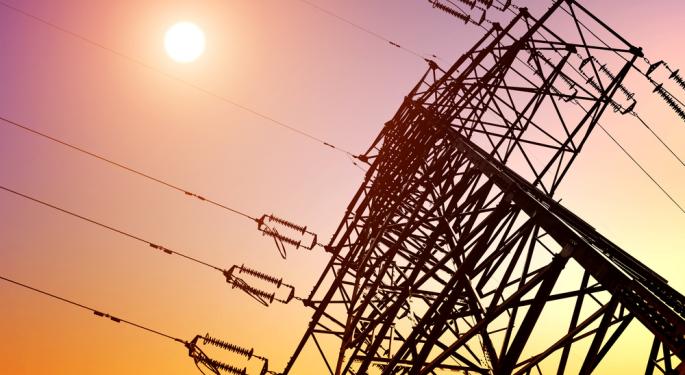 DTE Energy (NYSE: DTE) is up on Friday after posting a very strong first quarter.
The Detroit-based firm's EPS jumped 47 percent year-over-year to $1.34, blowing away estimates of $1.01.
Revenue climbed 12.4 percent to $2.52 billion, comfortably surpassing the Wall Street consensus of $2.31 billion.
A Real Gas
Net income in DTE's gas segment rose 84.6 percent to $96 million. Meanwhile, its gas storage and pipelines segment remained flat at $17 million.
The company's energy trading segment showed substantial improvement with net income of $7 million as opposed to a loss of $2 million in Q1 2012.
On the electricity front, the utility provider's electric segment soared nearly 20 percent to $115 million.
DTE to Shed Light on a Trash Dump?
On April 12, the Ypsilanti Courier reported the Ypsilanti, Michigan City Council approved a lease agreement and easement with DTE to build a proposed 4.5 acre solar array on the former city landfill.
According to the report, if DTE accepts the deal, it could build a $4 million solar development on the site. DTE would lease it for either $40,000 or $44,000 per year for 20 years, depending on the size of the installation.
The location could be operational by the end of 2013, as noted the Ypsilanti Courier.
Environmental Regulations to Choke DTE?
On Thursday, Michigan Public Radio reported the Environmental Protection Agency (EPA) is preparing to set the first-ever federal limits on toxic metals in wastewater from coal-fired plants. Depending on the EPA's decision, the regulation could affect six DTE power plants, as noted Michigan Public Radio.
According to the story, under the least-stringent interpretation of the proposed rule, DTE would have to recirculate and treat wastewater at one of its plants. However, under the strictest interpretation, it would have to do so for six of them.
As Michigan Public Radio mentioned, DTE spokesman Scott Simmons believes the changes could cost the company $200 million.
The EPA must make its decision by late May of 2014, per a court order, according to the story.
Market Reaction
After three consecutive days of decline, DTE has leveled out on Friday. The stock is trading about even with Thursday's close, holding a bit above $72 as the week draws to a close.
Posted-In: Environmental Protection Agency EPA Scott SimmonsEarnings News Best of Benzinga
View Comments and Join the Discussion!