Kansas City Southern Steams Ahead on Earnings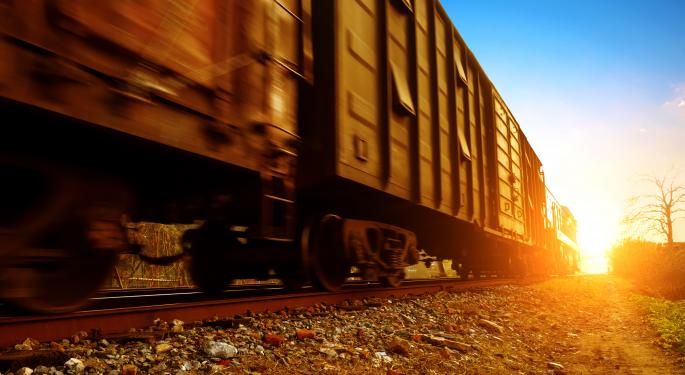 Kansas City Southern (NYSE: KSU) is steaming ahead on Friday after beating EPS estimates.
The Kansas City-based firm's EPS rose over 11 percent to $0.89, edging expectations of $0.88.
Revenue finished roughly flat at $552.8 million and fell short of the over $571 million analysts wanted to see.
Agriculture Not Growing
Kansas City Southern's agriculture & minerals segment dropped 28 percent year-over-year, driven by a 38 percent decline in grain shipments, with sales of $81 million. The company blamed the decline on a severe drought that impacted major sections of the US' corn crop in 2012.
Overall, the rail carrier hauled 24 percent less carloads in this segment and netted five percent less revenue per carload.
Autos Lead the Pack
The company's automotive segment generated a 31 percent gain during the quarter, finishing with 49.1 million in revenue. It hauled over 27,000 carloads - an 18 percent increase - and netted seven percent more revenue per carload.
This is in line with recent growth in auto sales which, according to the Wall Street Journal, were expected to hit an over five-year peak in March with growth of over seven percent.
The US' fourth-largest rail carrier's intermodal segment was the only other to crack double-digit growth, with sales growing 17 percent to $79.8 million.
A Crude Awakening
Kansas City Southern transported 3,100 carloads of oil during the quarter, representing a 288 percent climb over Q1 2012. Revenue from oil transports jumped 369 percent to $6.1 million.
Overall, the company's energy segment grew seven percent to $76.3 million.
Meanwhile, its chemical & petroleum segment remained flat while revenue in its industrial & consumer products segment rose four percent.
A Fresh Start in Texas?
According to Progressive Railroading, the ports of Corpus Christi, Laredo and San Antonio recently formed the South Texas Alliance for Regional Trade (START) in an effort to attract business and freight volumes to the region.
Kansas City Southern is one of three railroad firms serving the mentioned ports and, if the deal works out, could see more business in South Texas.
Ahead of Schedule on Wall Street
Despite posting weak revenue, Kansas City Southern has climbed to around $105 Friday morning on word of its successful earnings. The stock is up approximately 1.5 percent as the week draws to a close.
Posted-In: South Texas Alliance for Regional TradeEarnings News Best of Benzinga
View Comments and Join the Discussion!