General Electric Posts Powerful First Quarter Earnings, Record Backlog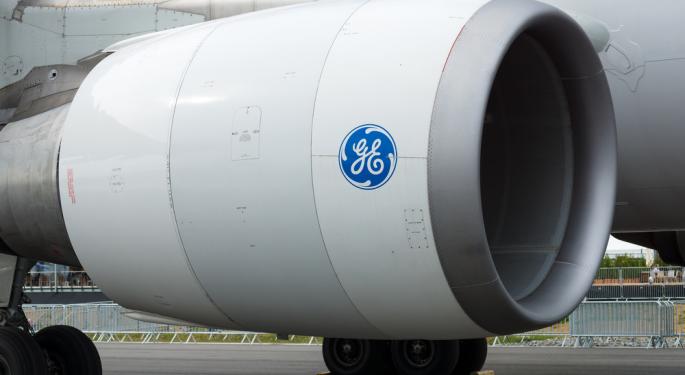 General Electric (NYSE: GE) reported better-than-expected first quarter earnings and a record backlog to sweeten the news on Friday.
The Fairfield, Connecticut-based firm's EPS rose 15 percent to $0.39, easily topping expectations of $0.35.
Revenue finished flat year-over-year at $35 billion and surpassed the Wall Street consensus of $34.63 billion.
Orders Take Off
General Electric's equipment orders grew 10 percent during the quarter. Within growth markets, this figure climbed 17 percent.
Overall growth in this regard was driven by a 47 percent surge in aviation orders. Oil & gas orders jumped a healthy 24 percent, as well.
Record Backlog
The world's 21st-largest company finished the first quarter with a record backlog of $216 billion. To put that into perspective, the company has a backlog of over six times its first quarter revenue and equal to around 1.4 percent of the estimated 2012 US GDP.
A Real Gas
General Electric has made numerous moves on the liquefied natural gas (LNG) front in early 2013, in line with a rapidly growing global interest in the fuel.
On Wednesday, the company unveiled its "LNG in a Box" product, which it described as a "small-scale, plug-and-play, re-deployable liquefied natural gas fueling solution." It will be initially used at LNG stations in Europe.
The same day, General Electric announced it received contracts to supply gas compression trains for the Dominion's Cove Point Liquefaction Project in Lusby, Maryland.
And, the machinery giant has inked deals with Hyundai Heavy Industries to supply a propulsion system for a LNG floating storage regasification unit (FSRU) and a power and propulsion system for a LNG carrier.
It has also courted Daewoo Shipbuilding & Marine Engineering and will supply power and propulsion technology for two LNG carriers.
Overall, the 121 year-old firm has received orders for propulsion systems on 31 vessels over the last six months at a total value of approximately $80 million.
Slick Moves
In addition to the mentioned LNG moves, General Electric has gained additional ground in the oil & gas space.
On April 3, the company announced it has won over $600 million worth of contracts over the past 12 months to provide propulsion systems for customers leading the pre-salt oilfield expansion off Brazil's east coast. It is in the process of building systems for 22 of the 29 drill ships for the current phase of Petrobras' (NYSE: PBR) Brazilian oil and gas exploration.
Then, on April 8, General Electric announced its acquisition of oil & gas equipment firm Lufkin Industries (NASDAQ: LUFK). The purchase is expected to close in the second half of 2013 and is worth approximately $3.3 billion.
Stock Losing Steam
Interestingly, despite General Electric's successful first quarter, its stock is down as the week comes to a close. It is at a three-month low of around $21.75 as of this writing, despite no apparent news to drive the decline.
General Electric is down around four percent on Friday.
Posted-In: Dominion's Cove Point Liquefaction ProjectEarnings News Best of Benzinga
View Comments and Join the Discussion!