Philip Morris Chokes on Unhealthy Earnings and Foul Guidance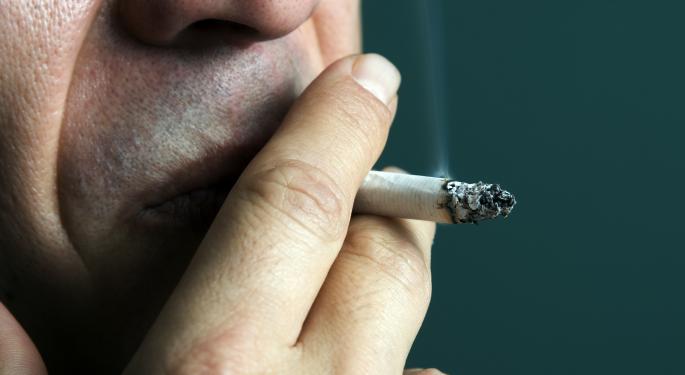 Philip Morris International (NYSE: PM) is down on Thursday after posting a weak first quarter and lackluster guidance.
The New York City-based firm's EPS rose 2.4 percent year-over-year to $1.28. However, it fell short of the Wall Street consensus of $1.34.
Revenue climbed 1.8 percent to $7.6 billion, edging analysts' expectations of around $7.5 billion.
Shipments Stink
Shipment volumes declined in three of the world's largest tobacco company's segments.
The most substantial setbacks occurred in Asia and the EU, with volumes dropping 10.4 and 10.1 percent, respectively. Revenue fell 4.6 percent to $1.34 billion in Asia and around nine percent to $938 million in the EU.
Shipments in Latin America and Canada took a significant hit, as well, falling 7.5 percent during the quarter. Interestingly, though, revenue from this segment rose 7.2 percent to $254 million.
The only bright spot from a shipment standpoint was the company's Eastern Europe, Middle East and Africa segment, which shipped 1.4 percent more cigarettes. Revenue on this front soared 15.4 percent to $935 million.
Overall, Philip Morris shipped nearly 205 billion cigarettes, down 6.5 percent year-over-year.
A Taxing Experience in the EU
Philip Morris' EU business was hit hard by an increase in excise taxes. Two-thirds of its net sales were eaten up by excise taxes in this segment as compared to around half in all other segments. In other words, of the approximately $0.15 cost per cigarette, Europeans paid about $0.10 in taxes.
Overall, 59 percent of the company's sales came in the form of excise taxes, representing a slight increase versus Q1 2012. Investors should note that excise taxes were not included in the reported revenue of $7.6 billion.
Marlboro Fizzling Out?
Marlboro, which has been the most popular cigarette brand in the world for decades, saw a 4.8 percent decline in shipments during the quarter. However, the company's L&M brand - the third most popular brand in the world - jumped 4.3 percent.
Chew on This
Philip Morris shipped 8.8 percent more "other tobacco products", encompassing all tobacco products other than cigarettes. This growth was driven primarily in Belgium, France and Spain.
New CEO to Roll In
On March 13, the company announced that current COO André Calantzopoulos will become its CEO immediately following its shareholder meeting on May 8. He's also been nominated for election to the board of directors at the annual meeting.
Current Chairman and CEO Louis Camilleri will remain as chairman of the board. According to the company, he'll also "assist the CEO in long-term strategy" in addition to serving as "the CEO's surrounding board."
Foul Guidance
Philip Morris expects 2013 earnings of $5.55 to $5.65 per share. Even at the high end, this would fall short of the $5.73 analysts want to see.
Cloud of Smoke on Wall Street
The cigarette manufacturer's weak quarter and paltry guidance have sent it to a three-week low of under $91.40 as of this writing. Its stock has dropped nearly three percent on Thursday.
Posted-In: Andre Calantzopoulos louis camilleriEarnings News Guidance Best of Benzinga
View Comments and Join the Discussion!