The Children's Place Tops Estimates, Drops to 18-Month Low on Guidance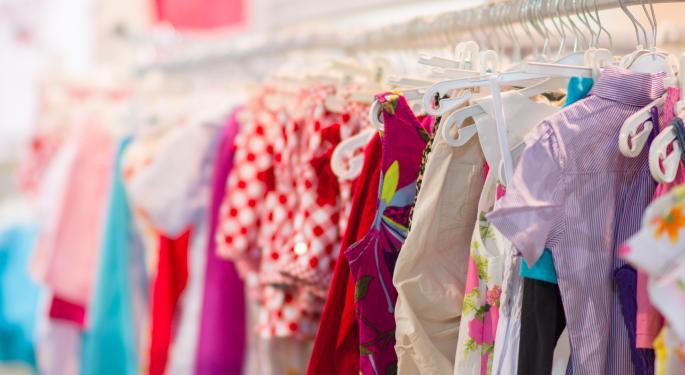 The Children's Place (NASDAQ: PLCE) topped fourth quarter and full-year expectations on both the EPS and revenue fronts.
The Secaucus, New Jersey-based firm posted a 32 percent gain in EPS at $1.15 for the fourth quarter. This figure easily topped the Wall Street consensus of $1.04.
Fourth quarter revenue rose 11 percent year-over-year to just over $509 million, beating analysts' expectations of around $496 million.
Full-year EPS finished up about 10.5 percent at $3.23, surpassing estimates of $3.13.
Total 2012 revenue closed up approximately 5.5 percent at $1.81 billion, narrowly edging the consensus of $1.8 billion.
Comparable Store Sales Up
Comparable store sales rose 4.3 percent during the fourth quarter.
For the year, the children's specialty retailer saw a two percent gain in comparable store sales.
Net Gain of 46 Stores
The Children's Place opened four stores and closed 11 in the fourth quarter for a net loss of seven stores.
However, during the entire year, it opened 64 stores and closed 18 for a net gain of 46.
Plenty of Money Left to Repurchase Shares
The Children's Place repurchased 863,000 shares for over $41 million during the fourth quarter and a total of 1.8 million shares for around $89 million in 2012.
Yet, of the $100 million the company authorized for share repurchases in November, $80.4 million is still on the table.
Too Cold for the Kids?
The Children's Place expected first quarter EPS to finish in the $0.60 to $0.65 range, which is barely half the $1.19 analysts want to see. It attributes this to the "unfavorable weather and weak macro-economic environment affecting consumer spending quarter-to-date."
For the year, the company anticipates earnings of $2.90 to $3.10. In this range, it would fall far short of the $3.59 Wall Street consensus.
Eighteen Month Low
After reaching $50 in late January and hovering around that mark into late February, The Children's Place had been on a roller-coaster between the mid and high $40s through Monday. However, despite its successful fourth quarter and 2012 earnings, the stock has dropped into the low $40s on Tuesday, reaching an 18-month low.
The Children's Place is down around 6.5 percent on Tuesday.
Posted-In: Earnings News Guidance Best of Benzinga
View Comments and Join the Discussion!