Dollar General Inflates on Earnings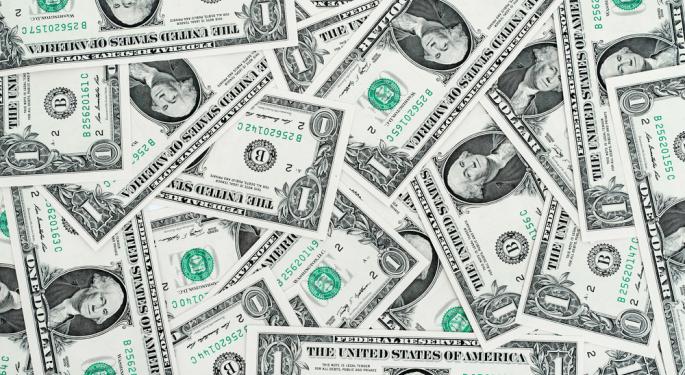 Dollar General (NYSE: DG) has opened the week up considerably on word of a successful fourth quarter.
The Goodlettsville, Tennessee-based firm posted fourth quarter earnings of $0.97 per share, up 14 percent year-over-year. This figure easily topped the EPS of $0.90 analysts hoped for.
Fourth quarter revenue finished roughly flat as compared to Q4 2011 at $4.21 billion. Sales came in slightly short of the $4.26 billion Wall Street consensus.
Full-year EPS closed up 28 percent and in line with analysts' expectations at $2.85.
Total 2012 revenue rose eight percent to $16.02 billion, finishing just below expectations of $16.07 billion.
Same Store Sales Up
Same store sales increase three percent during the fourth quarter.
For the year, this figure climbed 4.7 percent.
Another Day, Another 500 Million Dollars
On March 19, Dollar General increased its share repurchase authorization by $500 million. A total of $644 million remains available for repurchase.
Inflating the Dollar
Dollar General expects to open approximately 635 new stores in 2013. It also expects to relocate or remodel around 550 stores during the year.
Betting Its Bottom Dollar on Tobacco?
Dollar General intends to roll out tobacco products in its stores in the second half of 2013. It expects this and other merchandising initiatives to facilitate stronger growth in the second half of the year than the first half.
While adding tobacco products to its lineup may seem a bit odd given the current push toward a healthier society, it may be a simple issue of demographics.
Based on statistics from the Centers for Disease Control (CDC), around 34 percent of people with a GED, high-school diploma or less education smoke cigarettes compared to about eight percent who have graduated college. Of course, individuals with less education are more likely to have a low income.
And, around 29 percent of those in poverty smoke, compared to about 18 percent who live above the poverty line. In other words, since Dollar General targets low-end shoppers - who are more likely to smoke - adding tobacco to its shelves may pan out to be a smart business move.
Mixed Guidance
Dollar General anticipates revenue growth of 10 to 12 percent in 2013. If this pans out, the firm will generate $17.62 to $17.94 billion. As analysts currently expect the company to pull in $17.63 billion, it should easily surpass its revenue target.
However, the discount variety chain's EPS estimates are a bit shaky. Dollar General expects earnings of $3.15 to $3.30 per share. At the middle-ground of $3.22-$3.23, it would fall short of the $3.27 per share analysts want to see.
Six Month High
Dollar General's successful fourth quarter has outweighed its shaky guidance thus far on Wall Street.
The stock is closing in on $52 in the morning hours of trading. It is at its highest point in nearly six months.
Dollar General is up approximately 3.5 percent on Monday.
Posted-In: Center for Disease ControlEarnings News Guidance Best of Benzinga
View Comments and Join the Discussion!