Silver Wheaton Shines on Earnings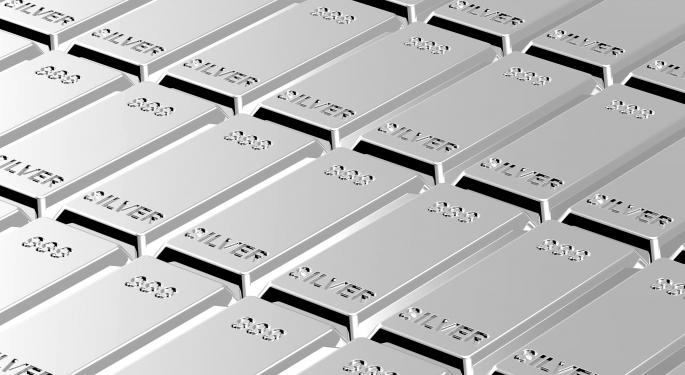 Silver Wheaton (NYSE: SLW) is shining Friday in the aftermath of a successful fourth quarter and full-year 2012.
The Vancouver, British Columbia-based firm posted a record net earnings of $0.50 per share, up 22 percent from Q4 2011. This also topped the Wall Street consensus of $0.49.
Fourth quarter revenue came in at over $287 million - another record - increasing nearly 50 percent year-over-year.
Full-year EPS climbed over six percent to a record $1.66, but fell short of the $1.70 analysts hoped for.
Total 2012 revenue grew over 16 percent to a record of around $850 million, giving the company a grand-slam record-breaking quarter and year.
Shinier Than Ever Before
Silver Wheaton set records in production and sales during both the fourth quarter and entire year.
The company produced 8.5 million silver equivalent ounces during the quarter, up 23 percent year-over-year.
Fourth quarter silver equivalent sales rose nearly 52 percent year-over-year with 9.1 million ounces sold.
Full-year silver equivalent production climbed 16.5 percent to 29.6 million ounces.
For the year, the silver mining firm sold 27.3 million ounces of silver equivalent - an increase of 29 percent from 2011.
Gold (and Silver) Digging
Silver Wheaton's Minto mine (Canada) produced 18,600 ounces of gold during the year, up one percent from 2011.
As for silver mining, the company's Zinkgruvan mine (Sweden) grew 48 percent, producing 2.5 million ounces. The Penasquito mine (Mexico) also grew by leaps and bounds at over 24 percent, generating nearly 6.6 million ounces of silver. Most of the company's other mines grew, as well.
The only notable decline in production was from its Barrick mines in Argentina and Peru, which produced around 2.7 million ounces of silver - 10 percent less than in 2011.
Surfing the Silver Stream
In August, Silver Wheaton acquired a precious metals stream from Hudbay Minerals' (NYSE: HBM) 777 mine. It also acquired a silver stream from Hudbay's cornerstone development project, Constancia.
Golden Outlook
With its February acquisition of the Salobo and Sudbury gold streams from Vale S.A. (NYSE: VALE), Silver Wheaton expects to double its attributable gold production over the next five years.
The company also expects the acquisition, along with a full year of production from Hudbay's 777 mine, to drive production growth in 2013. It anticipates s a 13 percent increase to approximately 33.5 million ounces of silver equivalent production during the year, including 145,000 ounces of gold.
Looking forward, Silver Wheaton projects silver equivalent production to reach 53 million ounces in 2017, including 180,000 ounces of gold. If this figure is accurate, production will grow 79 percent over the next five years.
The Midas Touch on Wall Street
Silver Wheaton closed up 2.6 percent on Thursday and continues its ascent on the final day of trading this week. The stock is closing in on $32 and is at its highest point since March 4.
Silver Wheaton is up over 2.5 percent on Friday.
Posted-In: Earnings News Global Best of Benzinga
View Comments and Join the Discussion!