IHS Posts Successful First Quarter Earnings, Down on Guidance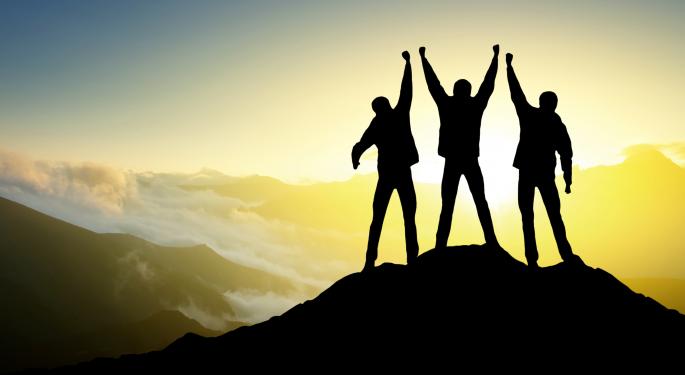 IHS (NYSE: IHS) has opened 2013 with successful first quarter earnings.
The Englewood, Colorado firm posted earnings of $0.86 per share, up nearly 12 percent year-over-year. This figured narrowly edged analysts' expectations of $0.85, as well.
First quarter revenue closed up 11.6 percent at around $382.5 million, beating the Wall Street consensus of approximately $378.5 million.
Strong Subscription Revenue
Subscription revenue finished up 12.6 percent year-over-year at $307.7 million.
Non-subscription revenue also grew significantly during the quarter, rising around eight percent to $74.8 million.
Double-Digit Worldwide Growth
IHS posted double-digit growth both at home and abroad in the first quarter.
Revenue in its Asia-Pacific segment grew 21 percent to $44 million.
In the Americas, the company posted an 11 percent gain, finishing with $229 million.
Meanwhile, revenue in Europe, the Middle East and Africa (EMEA) climbed 10 percent to $109 million.
Deal with Repsol
On February 5, IHS announced that Madrid-based oil and gas company Repsol (MCE: REP.MC) selected the IHS Environmental Performance Solution™ to manage its emissions reporting information.
According to IHS, over 75 percent of the world's 20 largest energy companies use its services. Overall, it has customers in over 165 countries.
Environmental Business Journal Award; Multiple Acquisitions
In January, IHS received an Environmental Business Journal Business Achievement Award. It received it in recognition of its acquisitions of CyberRegs® and XeDAR (OTC: XDRC) Corporation which "strengthened its solution offerings and market position."
On this note, the company also acquired Energy Publishing during the quarter. Energy Publishing provides Australasian and North American coal intelligence.
And, IHS acquired specialist intelligence firm Exclusive Analysis as well as oil and gas information provider Dodson Data Systems during the quarter.
Guidance on Par
IHS expects full-year EPS to close in the $4.23 to $4.43 range. This is in line with analysts' hopes of $4.36.
The company anticipates 2013 revenue to finish in the $1.64 to $1.71 billion range, placing it on par with the $1.68 billion Wall Street consensus.
One Month Low
After closing above $111 on March 8, IHS dropped nearly two percent through Wednesday. And, the stock continues its downslide on Thursday, despite the positive earnings data and on-par guidance. Perhaps investors are concerned EPS will finish in the low to mid range of IHS' estimates.
The stock has declined below $104 - its lowest point in nearly one month.
IHS is down around five percent on Thursday.
Posted-In: CyberRegs Dodson Data Systems Energy Publishing Exclusive AnalysisEarnings News Guidance Best of Benzinga
View Comments and Join the Discussion!