Actuant Tops Earnings Estimates, Drops on Guidance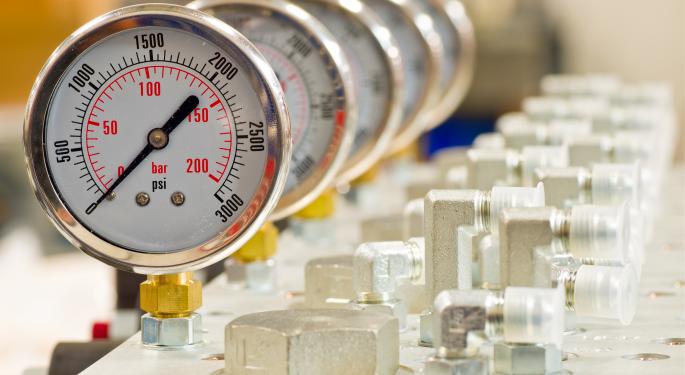 Actuant Corporation (NYSE: ATU) has topped earnings estimates, but has issued lower-than-expected guidance for the third quarter and full year.
The Menomonee Falls, Wisconsin-based firm's second quarter EPS declined 12 percent year-over-year, finishing at $0.38. However, it surpassed the Wall Street consensus of $0.37 per share.
Revenue declined two percent year-over-year and closed at $370 million. Yet, the industrial machinery maker topped analysts' expectations of approximately $365.6 million.
Energy and Industrial Segments Up
Actuant's energy segment grew 2.4 percent year-over-year, generating $80.8 million. The firm noted that its Hydratight business' core sales increased during the quarter, reflecting solid maintenance, repair and overhaul (MRO) spending in oil and gas.
The company's industrial segment also grew to $99 million, finishing 0.7 percent higher than in Q2 FY 2012. On this note, Actuant credited the increase to "higher global Integrated Solutions activity" with the strongest gains in Asia-Pacific and North America. Meanwhile, sales in this segment declined in China and Europe.
Electrical and Engineered Solutions Segments Down
Actuant's electrical segment declined sharply on a year-over-year basis. Sales declined around 9.5 percent and finished at $69.9 million. It attributed this primarily to lower solar inverter shipments and industrial transformer demand.
The company's engineered solutions segment saw a less severe decline of about 2.3 percent. It generated $120.7 million during the quarter. Actuant cited that sales "continued to be impacted by OEM destocking in the heavy-duty truck, off-highway equipment and auto markets."
Weak Guidance
Actuant expects third quarter EPS to finish in the $0.63 to $0.68 range. At the middle-ground of $0.65-$0.66, it would fall short of analysts' hopes of $0.67.
And, while Wall Street wants to see sales of over $441 million for the quarter, Actuant expects to finish in the $410 to $420 million range.
As for full-year EPS, the company anticipates a figure of $2.15 to $2.25. If this pans out, it will finish below analysts' expectations of $2.18.
Total FY 2013 revenue is expected to round out in the $1.575 to $1.6 billion range, according to Actuant. This figure would be slightly below the Wall Street consensus of $1.61 billion.
Market Reaction
Despite topping analysts' expectations on the earnings front, Actuant's weak guidance has sent it on a modest decline.
The stock had been on a steady climb since late December and briefly eclipsed the $32 mark on March 15. However, it has been on a backslide since then as has dropped closer to $31.
Actuant is down around one percent on Wednesday.
Posted-In: Earnings News Guidance Best of Benzinga
View Comments and Join the Discussion!