FedEx Fails to Deliver on Earnings and Guidance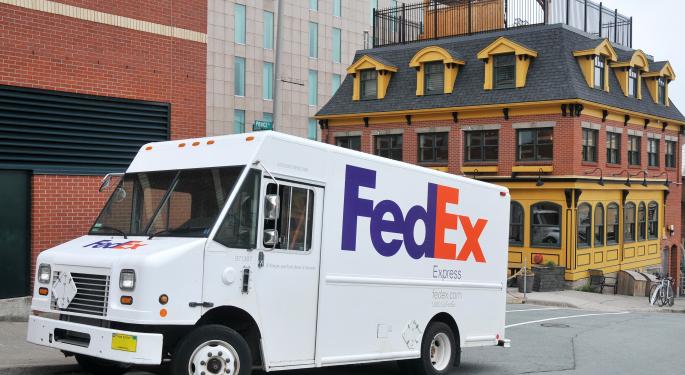 FedEx (NYSE: FDX) is down on Wednesday after reporting lackluster earnings and guidance.
The Memphis, Tennessee-based firm reported third quarter earnings of $1.23 per share, dropping nearly 21 percent year-over-year. This figure also fell short of the Wall Street consensus of $1.38.
Revenue finished up close to four percent year-over-year at $11 billion, edging analysts' estimates of $10.86 billion.
Strong Ground Game
FedEx's Ground segment grew 11 percent year-over-year, finishing the quarter at $2.75 billion.
Meanwhile, its Express segment climbed around 2.5 percent and generated $6.7 billion.
FedEx Freight finished roughly flat with revenue of $1.24 billion.
Repackaging Strategy in Asia; Older Planes to be Cast Away?
Commenting on the paltry third quarter, FedEx Chairman, President and CEO Frederick W. Smith stated, "The third quarter was very challenging due to continued weakness in international air freight markets, pressure on yields due to industry overcapacity and customers selecting less expensive and slower-transit services. In response, beginning April 1, FedEx Express will decrease capacity to and from Asia and will aggressively manage traffic flows to place low yielding traffic in lower-cost networks. We are currently assessing how these actions may allow FedEx Express to retire more of its older, less-efficient aircraft…"
Stock Repurchase Program Gains Altitude
The FedEx board of directors has authorized the repurchase of 10 million shares of common stock. This repurchase authorization supplements the outstanding 188,000 shares that are authorized for repurchase.
Guidance off Course
FedEx expects fourth quarter EPS to close in the $1.90 to $2.10 range. If this pans out, the transportation giant will fall short of the $2.13 analysts expect.
The company anticipates full-year EPS to finish in the $6 to $6.20 range. This would also be below the $6.35 Wall Street wants to see.
In regards to the disappointing guidance, CFO and EVP Alan B. Graf, Jr. stated, "Our lower-than-expected results for the quarter and reduced full-year earnings outlook were driven by third quarter international revenues declining approximately $100 million versus our guidance primarily due to accelerating customer preference for lower-yielding international services, lower rate per pound and weight per shipment."
Graf further stated, "We expect these international revenue trends to continue. We have other actions under way beyond those already included in our profit improvement program. Some of these additional actions may involve temporarily or permanently grounding aircraft, which could result in asset impairment or other charges in future periods."
Flying Low in the Market
FedEx had been on a steady ascent since early September. It leveled out in early March and hovered in the $108 to $109+ range through the 15th. However, it has descended this week and is down for the third consecutive day.
The stock is trading at around $102.50 in the pre-market. It has declined six percent since Friday.
FedEx is down around 3.5 percent on Wednesday.
Posted-In: Alan B. Graf Frederick W. SmithEarnings News Guidance Best of Benzinga
View Comments and Join the Discussion!