Walgreens Up on Earnings, Deal With AmerisourceBergen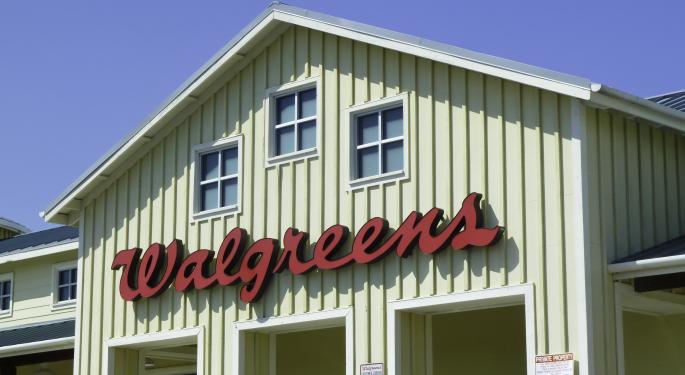 Walgreens (NYSE: WAG) is up on Tuesday after topping EPS expectations and announcing a long-term deal with AmerisourceBergen (NYSE: ABC).
The Deerfield, Illinois-based firm reports second quarter fiscal year 2013 earnings of $0.96 per share, up nine percent year-over-year-. This also edged the Wall Street consensus of $0.94.
Second quarter revenue finished flat year-over-year at $18.65 billion. This figure was roughly on par with the $18.72 billion analysts hoped for.
Prescription for Success
Walgreens filled 208 million prescriptions during the second quarter - a six percent increase from Q2 FY 2012. In comparable stores, this figure rose 4.3 percent.
The company also administered seven million flu shots, topping its Q2 2012 performance by 27 percent.
Healthy Expansion
Walgreens joined the preferred pharmacy network of four national Medicare Part D plan sponsors during the quarter. It also announced the formation of accountable care organizations with physician groups in Florida, New Jersey and Texas.
Additionally, Walgreens took joint ownership of CF Services and Pharma Dynamics with the Cystic Fibrosis Foundation.
Long-Term Partnership With AmerisourceBergen
On Tuesday, the company announced that, along with its partner, Alliance Boots, it has entered a long-term relationship with pharmaceutical giant AmerisourceBergen. The move will continue the existing relationship between the firms for 10 years.
Effective September 1, AmerisourceBergen will distribute the branded pharmaceutical products that Walgreens has historically sourced from distributors and suppliers.
Beginning in 2014, this will increasingly include generic pharmaceuticals that Walgreens has traditionally self-distributed. And, Walgreens anticipates an enhanced supply chain with daily deliveries as a result of the deal.
Also, under the deal, Walgreens and Alliance Boots have the right to purchase a minority equity position in AmerisourceBergen. This right begins with the option to buy up to seven percent of the fully-diluted equity of the Chesterbrook, Pennsylvania-based firm.
Additionally, Walgreens and Alliance Boots will have equity warrants exercisable for 16 percent of AmerisourceBergen. The first tranche will represent eight percent, have a strike price of $51.50 and be exercisable for a six month period beginning March 2016.
The second tranche will represent the remaining eight percent, have a strike price of $52.50 and be exercisable for six months beginning in March 2017. Walgreens and Alliance Boots will share the warrants equally.
Finally, Walgreens will appoint one of its executives to the board of AmerisourceBergen once it and Alliance Boots have gained five percent equity. Alliance Boots will appoint a board member after the first tranche of warrants is exercised in full.
Market Reaction
Walgreens has seen a modest gain in the pre-market on word of its earnings and the deal with AmerisourceBergen. It is up around 1.5 percent on Tuesday.
Investors may also be interested to know that AmerisourceBergen has surged on word of the deal with Walgreens and Alliance Boots. Shares are up approximately 6.5 percent.
Posted-In: Alliance Boots medicareEarnings News M&A Best of Benzinga
View Comments and Join the Discussion!