Navistar Records Impressive 2-Day Rally After Q1 Earnings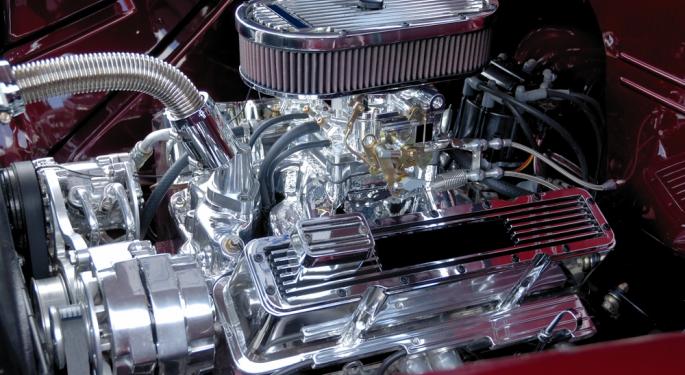 Shares of military truck manufacturer Navistar (NYSE: NAV) are sharply higher for the second day in a row on Friday. Around mid-day, the stock had risen 9 percent to $34.75 after posting a better than 26 percent rally on Thursday.
The catalyst for the bullish activity in the name was a first-quarter earnings report which caught Wall Street off-guard. The company also announced that it will replace its interim CEO with its current president and COO. The huge two-day move has catapulted the stock to its best levels since April 2012 and given Navistar a market-cap which is approaching $3 billion again.
Navistar is a manufacturer of International brand commercial and military trucks, IC Bus (IC) brand buses, MaxxForce brand diesel engines, Workhorse Custom Chassis (WCC) brand chassis for motor homes and step vans, and Monaco RV (Monaco) recreational vehicles (RV), as well as a provider of service parts for all makes of trucks and trailers.
For the first-quarter, the company reported a loss of $123 or $1.53 per share, compared to $153 million or $2.19 per share, in last year's corresponding quarter.
The company's net loss from continuing operations narrowed to $114 million or $1.42 per share, from $144 million or $2.06 per share, in last year's first-quarter. This was much better than Wall Street analysts' consensus estimates which called for a loss of $1.76 per share.
Net sales in the period were down to $2.637 billion from $3.01 billion last year. This missed Wall Street consensus revenue expectations of $2.81 billion.
Separately, Navistar's board said that it has appointed Troy Clarke as president and chief executive officer, effective April 15. Currently, Clarke is currently the company's president and chief operating officer. The executive will also join Navistar's Board of Directors.
The company's interim CEO Lewis Campbell, who also served as executive chairman, will relinquish these positions. Board member James Keyes will assume the non-executive chairman role on April 15.
This week's rally in Navistar is filling the pockets of legendary activist investor Carl Icahn who, at the age of 77, has already had a couple of monster trades in 2013. As of December 31, 2012 Icahn owned a 14.80 percent stake in the truck manufacturer.
In just the last couple of months, Icahn has seen the value of his stakes in Herbalife (NYSE: HLF) and Netflix (NASDAQ: NFLX) soar dramatically and the sharp gain in Navistar on Thursday and Friday shows that the investors is still on quite a hot streak.
Speaking about the management shake-up at the company, Icahn released the following statement:
"In my view over the past year Troy Clarke has been the leading force in improving the company's manufacturing operations and cost structure thereby proving that he is the right man to lead Navistar. We believe that Troy will be able to focus the company on its core business, execute on aggressive cost and market share targets and ultimately succeed in leading Navistar to the dominant position in the North America heavy truck market over the next several years. The company has a bright future and we are behind Troy 100% in his efforts to build Navistar into a focused, competitive and profitable truck and engine manufacturer."
Posted-In: Earnings News Guidance Hedge Funds Movers & Shakers Intraday Update Movers General Best of Benzinga
View Comments and Join the Discussion!