The Fresh Market Plunges on Rotten Earnings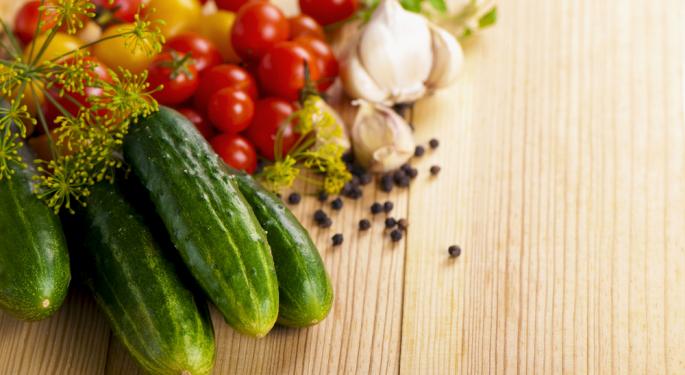 The Fresh Market (NASDAQ: TFM) shares tumbled on Wednesday after the company disappointed on the earnings.
The Greensboro, North Carolina-based grocery chain's earnings per share rose 13.7 percent during the fourth quarter on a year-over-year basis. However, the reported $0.43 per share narrowly missed the Wall Street consensus of $0.44.
Fourth quarter revenue grew 15.3 percent and rounded out at around $370 million. Yet, as with EPS, it missed the Wall Street mark of about $380 million.
Full-year EPS rose 24 percent. However, the final tally of $1.33 per share narrowly missed the $1.36 analysts expected.
Total revenue closed at $1.33 billion - a 20 percent increase from fiscal-year 2011. This was about on par with the Wall Street consensus of $1.34 billion.
Fresh Markets in 2012 and 2013
The Fresh Market expanded its presence with store openings in Alabama and Florida during the fourth quarter. This brought the new store figure up to 14 for the year.
Also, through Wednesday, the company has signed 28 leases for future store locations.
Of particular note is the company's expansion beyond the Southeast. Most of its current stores are in this region, and the company plans to expand its presence with further openings in this part of the US.
However, in November, the company announced the lease of four metro-Houston grocery store locations. The Fresh Store has also leased two Sacramento-area locations, two in New York State (one in NYC area) and a location in Kansas, among other additions lined up for the near future.
Stale Guidance
On a positive note, the company plans to open 19 to 22 new stores in 2013. Two are planned for the first quarter with a few more in the second. The bulk are scheduled to open in the second half of the year.
The earnings picture, however, isn't as rosy. While the Wall Street consensus is a 2013 EPS of $1.68, The Fresh Market plans to fall significantly short of this figure. The company expects EPS to close in the $1.51 to $1.58 range. Specifically, the firm expects EPS to be higher in the second half than the first half of the year.
A Rotten Day in the Market
After a gradual decline since late February, The Fresh store has plunged on Wednesday. The stock has dropped below $38.50 -- a 15-month low.
The Fresh Store is down around 10 percent on Wednesday.
Posted-In: Earnings News Guidance Intraday Update Movers Best of Benzinga
View Comments and Join the Discussion!