Best Buy Tops Estimates, Surges on Friday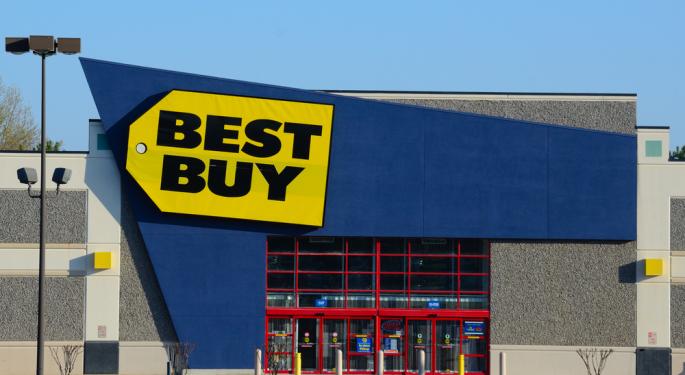 Consumer electronics giant Best Buy (NYSE: BBY) is riding the wave of a successful fourth quarter 2013 earnings report Friday.
The Richfield, Minnesota-based firm reported a fourth quarter EPS of $1.64, down 25 percent year-over-year. However, this figure topped analysts' estimates of $1.54.
Fourth quarter revenue finished at $16.7 billion, edging the Q4 2012 figure by approximately $40 million. Importantly, the latest figure topped analysts' estimates of $16.34 billion for the quarter.
For the year, EPS closed at $2.62, down over 27 percent from FY 2012. Yet, full-year EPS topped analysts' hopes of $2.49.
Total revenue finished at $49.62 billion for the year - a decline of one percent from the previous year. As with EPS, though, revenue topped estimates, closing less than one percent above analysts' expectations.
Holding Ground on the Home Front, Mixed Results Abroad
Domestic revenue remained roughly flat during the fourth quarter and entire year, finishing down very slightly in both. Fourth quarter domestic revenue was down 0.3 percent year-over-year while annual revenue was down 0.4 percent.
International revenue climbed 1.8 percent during the fourth quarter. However, it declined two percent overall during FY 2013.
Here We Are Now, Don't Entertain Us
Comparable store sales in the company's entertainment segment were down considerably during the fourth quarter. Domestic sales in this segment declined 18.9 percent while international sales were down 17.8 percent. This follows a weak Q4 FY 2012 performance in which entertainment sales declined 17.9 percent domestically and 16 percent abroad.
Best Buy's declining relevance in this segment is in line with the burgeoning popularity of Amazon (NASDAQ: AMZN) and Netflix (NASDAQ: NFLX). Amazon reported growing its digital media selection by 21 percent in 2012 and now offers 23 million movies, songs and the like.
The Seattle-based company's revenue grew 22 percent in 2012, likely in large part to its entertainment selection. Four varieties of its wildly-popular Kindle devices have held the top four spots on its worldwide bestsellers charts since launch.
Meanwhile, Netflix is considered by many to have blown Blockbuster into oblivion and is likely contributing to Best Buy's declining entertainment sales. The company added nearly 10 million customers in 2012 - many of whom likely frequented Best Buy for their entertainment needs previously.
As consumers increasingly favor online sources of entertainment, Best Buy's entertainment segment may be on a permanent downward spiral.
Computing and Mobile Phones Show Solid Growth
Best Buy's computing and mobile phones segment showed solid growth during the fourth quarter, finishing up 13.4 percent domestically and 2.5 percent internationally.
Market Reaction
After bottoming out a bit above $11 in late-December, Best Buy gradually climbed above the $17 mark in mid-to-late February. However, it dropped below $16.50 by the end of the month, closing at $16.41 on Thursday.
On Friday, the stock has risen above $17 again in the pre-market.
Best Buy is up around 4.75 percent on Friday.
Posted-In: Earnings News Best of Benzinga
View Comments and Join the Discussion!