Groupon Tanks on Weak Earnings and Guidance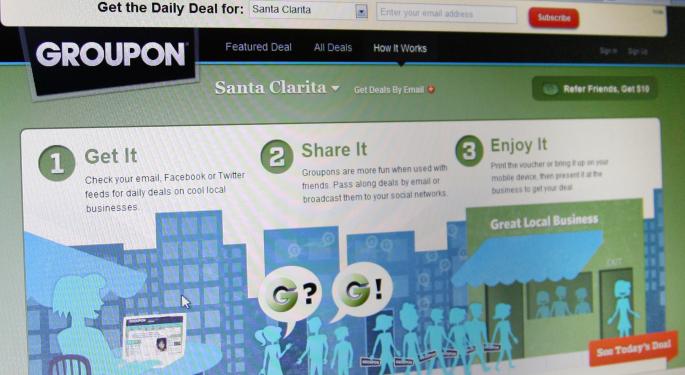 Groupon (NASDAQ: GRPN) has suffered a shellacking in the market on Thursday in the aftermath of a weak fourth quarter earnings report and lackluster guidance.
Wall Street expected the Chicago online coupon provider to round out the fourth quarter with an EPS of $0.03. However, the firm matched its Q4 2011 results with a loss of $0.12 per share.
Revenue finished on par with estimates at $638.3 million for the quarter. This figure was up nearly 30 percent year-over-year.
For the full year, the company reported a loss of $0.10 per share as compared to a loss of $1.03 per share in 2011.
Revenue closed at $2.33 billion for the year, topping the company's 2011 performance by 45 percent.
Full Steam Ahead in North America, Mixed Results Abroad
Fourth quarter revenue in the company's North America segment more than doubled year-over-year. For the year, the segment grew by 83.6 percent.
Meanwhile, International sales were down around 16 percent during the quarter. However, revenue from outside the US grew by approximately 20 percent for the year.
Fifty Million and Counting
Groupon surpassed the 50 million unit mark for the first time during the fourth quarter.
Groupon Going Mobile
In January of 2013, nearly 40 percent of North American transactions were completed on mobile devices. Compared to January of 2012, this figure rose 44 percent.
This is in line with the overall trend in Internet usage, as mobile access has become increasingly popular in recent years. According to the Pew Internet & American Life Project, the percentage of adult cell phone owners who access the Internet on their phones has nearly doubled over the past three years, with 55 percent now doing so.
And, 17 percent of cell phone owners primarily access the Internet from their phone instead of a traditional computer or other device, as notes the Pew Internet & American Life Project.
Weak Guidance
Wall Street expects Groupon to pull in $650 million during the quarter. However, the firm intends to finish Q1 2013 in the $560 to $610 million range.
Trading at a Discount
Groupon has taken a beating on Wall Street in the aftermath of its weak earnings and guidance.
Prior to Thursday, Groupon has traded above $5 coast-to-coast over the past month. However, it has dropped below the $5 mark in the morning hours of trading. The stock is currently at its lowest point in 2013.
Groupon is down around 20 percent on Thursday.
Posted-In: Earnings News Guidance Best of Benzinga
View Comments and Join the Discussion!