Is Burger King the Emerging Play in the Burger Trade?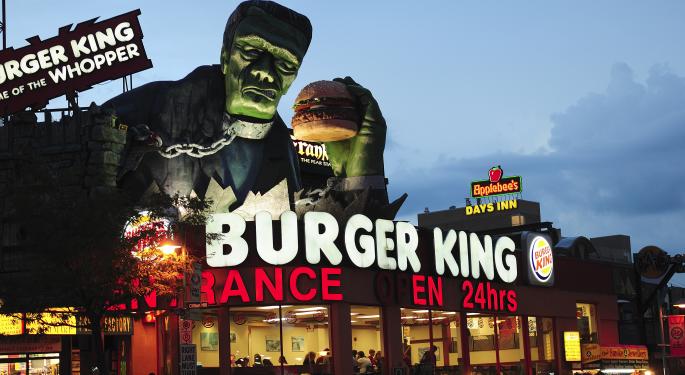 Burger King (NYSE: BKW) has been doing well compared to competitor McDonald's (NYSE: MCD), despite the turmoil caused by a recent call for an increase in federal minimum wage by President Obama.
As of Friday morning, Burger King's EPS climbed to 0.23 from the Q3 report of 0.17. Another worthwhile increase is its large beat/miss ratio (up to 53.33 percent from 13.33 percent in Q3) that demonstrates positive momentum in Burger King's standing.
Obama's call to raise the federal minimum wage from $7.25 to $9.00 drove McDonald's shares lower to close at $93.56 on Thursday, a 1.3 percent decrease.
When looking at growth potential, Burger King looks to be having greater growth potential than McDonald's. McDonald's already has business in 110 countries and has fallen behind Burger King in expansion potential.
The faster growth rate in Burger King is what many economists call the Catch Up effect, starting at a lower point in development and gives Burger King more room for growth than McDonald's. In terms of consistency, ratings have tended to favor the Big Mac.
McDonald's also leads Burger King in terms of dividend yields. A dividend may account for as much as half of the stock returns in the long run. McDonald's current 3.29 percent beats Burger King's 0.94 percent and in addition, McDonald's has been known to raise its dividend in the past.
Finally, looking at operating margins of both corporations, McDonald's 30.33 percent surpasses Burger King's 20.8 percent. Just by sheer size, McDonald's has the advantage in getting lower prices for commodities.
The recent short term fall of McDonald's sharing has yet to make a comeback. As an investment, few stocks are able to beat McDonald's for the long haul, meaning Burger King still has a long way to the throne.
McDonald's traded up 0.44 percent Friday to $93.97, while Burger King rose 3.56 percent to $17.17.
Posted-In: Big MacEarnings News Guidance Politics Markets Trading Ideas General Best of Benzinga
View Comments and Join the Discussion!