Qlik Technologies Skyrockets on Earnings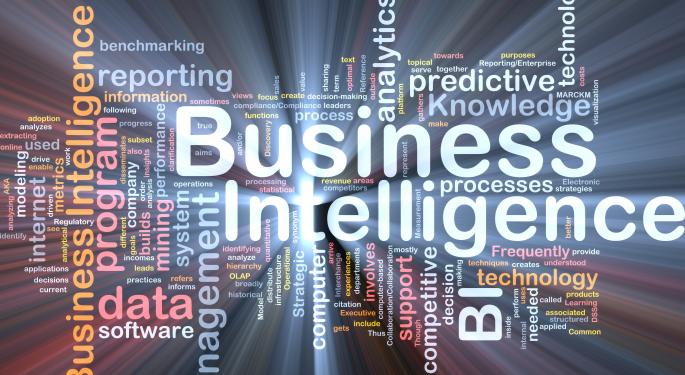 Qlik Technologies (NASDAQ: QLIK) has surged on Friday on word of a successful fourth quarter and year.
Fourth quarter revenue was up 27 percent year-over-year, finishing at $137.5 million. Full year revenue closed at $388.5 million, climbing 21 percent from 2011.
Meanwhile, fourth quarter EPS closed at $0.25, topping the $0.23 reported during the same period in 2011. This topped analysts' hopes of $0.23 for the quarter, as well.
For the year, EPS was $0.26, coming in slightly below the 2011 figure of $0.27.
Qlik-ly Growing Worldwide
Fourth quarter revenue in the Americas climbed 42 percent year-over-year. Revenue in Europe grew a healthy 20 percent, as well.
In the rest of the world, revenue grew 34 percent during the quarter.
Quick Exit for Qlik CFO
On Thursday, Qlik announced that CFO Bill Sorenson intends to resign for personal reasons. According to the firm, a search for a new CFO has been initiated and is expected to be completed expeditiously. Sorenson plans to remain as CFO until a successor is named.
Mixed Guidance
The Radnor, Pennsylvania software firm has issued its first quarter guidance, which paints a dismal picture compared to Wall Street expectations.
Analysts are looking for revenue of $94.23 million during the first quarter. However, Qlik expects to close at $87 to $91 million.
EPS is expected to fall short during the quarter, as well. While Wall Street wants to see a loss of $0.01 per share, Qlik expects to lose $0.12 to $0.15 per share.
The company attributes its lackluster first quarter guidance to seasonal revenue patterns, costs related to its annual employee summit in January, hiring expenses and increases in benefit and payroll tax expenses.
Yet, full-year guidance is above expectations. Analyst are looking for $452.7 million. However, the company expects to finish in the $465 to $475 million range.
Similarly, while Wall Street expects an EPS of $0.38, Qlik plans to top estimates at $0.39 to $0.42 per share.
Market Reaction
The strong fourth quarter and full-year results have outweighed the weak first quarter guidance thus far in the market.
For the past two months, Qlik's stock hovered in the low $20s. However, the positive earnings report has boosted it into the high $20s, sitting a little over $27 as of this writing. The stock is at its highest point in the past nine months.
Qlik is up around 19 percent on Friday.
Posted-In: Bill SorensonEarnings News Guidance Management Tech Best of Benzinga
View Comments and Join the Discussion!