Deere Mows Over Estimates, Posts 11th Consecutive Record Earnings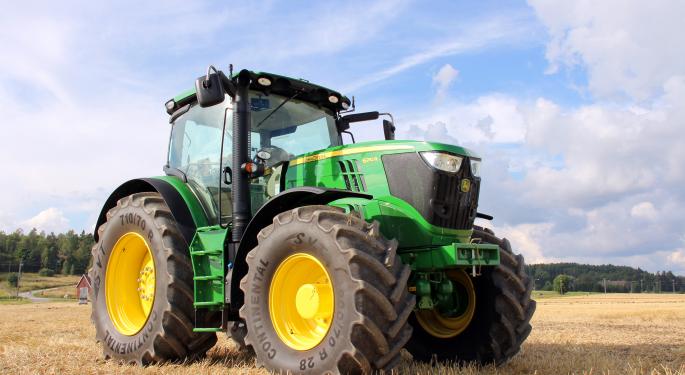 John Deere - officially Deere & Company (NYSE: DE) - mowed over Wall Street expectations during the first quarter of fiscal year 2013, posting its 11th consecutive period of record earnings.
The Moline, Illinois firm posted an EPS of $1.65, handily beating expectations of $1.40. It also easily topped its Q1 FY 2012 performance of $1.30 per share.
Revenue also came in well above both Wall Street expectations and last year's performance. The farm equipment company finished at $7.421 billion, topping expectations of $6.72 billion by 10.5 percent. It also topped its Q1 FY 2012 performance by nearly 10 percent.
Grass is Greener on the Other Side
Net income increased across the board for John Deere.
The company's equipment operations segment reported a net income of $525 million - up 26 percent year-over-year. John Deere attributes this to higher shipment volumes and "price realization."
Meanwhile, John Deere's financial services segment posted a net income of $132.9 million - up 11.5 percent from the same period in 2012. The company notes growth in its credit portfolio and higher crop insurance margins as catalysts for this boost.
Greener Pastures in 2013
John Deere has upped the ante for 2013, raising its guidance for the year.
The company expects worldwide sales of agriculture and turf equipment to rise approximately six percent (up from four percent) due to relatively high commodity prices and strong farm income.
Results in the US and Canada are expected to be ho-hum and sales are expected to decline in the EU. However, the increase is expected to be largely boosted by a 10 to 15 percent jump in industry sales in South America as well as a small increase in sales in Asia.
Construction and forestry sales are expected to climb three percent instead of the company's previous prediction of eight percent, with higher US demand being partially offset by lagging European markets.
Meanwhile, the financial services segment is expected to explode this year due to growth in the company's credit portfolio and lower crop insurance claims. John Deere expects this segment to finish with a net income of $540 million instead of its previous estimate of $500 million. If this is accurate, this segment will see a 17 percent increase as compared to 2012.
Deere Gets Shot Down in Market
Oddly enough, John Deere's stock is down in trading on Wednesday.
With an impressive performance in Q1 FY 2013, investors may expect this stock to surge on Wednesday. Yet, it continues to hover in the low $90s, just as it has done since mid-January.
And, there doesn't appear to be any mud slinging in the news media to stop the company in its tracks, making the stock's performance a bit puzzling in the aftermath of the strong earnings report.
John Deere is down around 1.5 percent on Wednesday.
Posted-In: Earnings News Guidance Best of Benzinga
View Comments and Join the Discussion!