Coca-Cola's Q4 Results Highlight Challenges; Stock Falls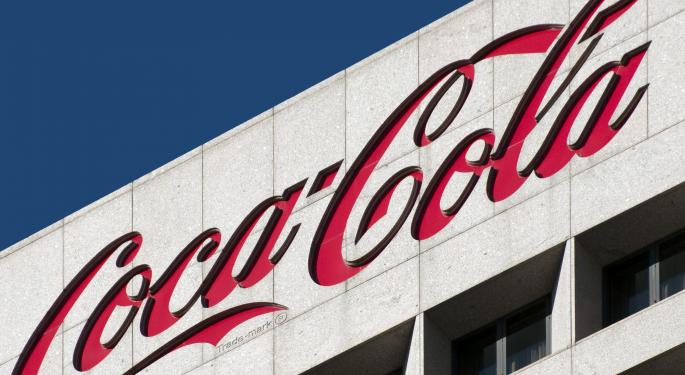 Global beverage giant Coca-Cola (NYSE: KO) released its fiscal fourth-quarter earnings results on Tuesday prior to the opening bell.
The company reported an increase in net income versus the year ago period with adjusted earnings per share topping Wall Street estimates. Consolidated sales, however, came in below expectations. Volume growth was strongest in emerging markets, while falling in Europe.
Worldwide volume growth was up three percent in the quarter, with international volume growth of four percent and North America growth of one percent. Volume in Europe was down five percent while developing markets in Latin America were up five percent and Eurasia and Africa reported 10 percent growth. Pacific region volume climbed two percent.
The results show that Coca-Cola faces obstacles as the composition of the global beverage market changes. Sales volume in the period fell in both China and Europe and consumers are drinking less soda domestically. Soda sales were down two percent in the U.S. but the shortfall was recouped by sales of Powerade and bottled teas.
In the key Chinese growth market, the company's volumes fell four percent after growing 10 percent in last year's fourth-quarter. CEO Muhtar Kent acknowledged that 2013 will likely "once again be a year of challenges," on a conference call with analysts.
The company, which counts Warren Buffett's Berkshire Hathaway (NYSE: BRK-A)(NYSE: BRK-B) as its largest owner with a nearly 9 percent stake, predicts that volumes in Europe and China will begin a rebound later this year.
"Our view is that this is not the start of a trend," said Gary Fayard, the company's chief financial officer. Other companies have also recently reported struggles in China, including quick-service restaurant chain Yum! Brands (NYSE: YUM).
Kent was also asked about the effect that a ramped up marketing strategy at competitor Pepsico (NYSE: PEP) might be having on Coca-Cola's business. He declined to comment specifically on Pepsi, but said that his company's market share grew in the quarter. "To be frank, we see competition as healthy. It keeps us on our toes," Kent added.
Coca-Cola's largest growth segment in the period was its ready-to-drink tea line where sales were up 16 percent.
The company reported net income of $1.87 billion or $0.41 per share, versus $1.66 billion or $0.36 per share, in last year's corresponding period.
On an adjusted basis, which is comparable to analysts' consensus, the company reported net income of $2.05 billion or $0.45 per share, compared to $1.82 billion or $0.39 per share, in last year's fourth-quarter. This came in ahead of Wall Street consensus of $0.44 per share by a penny.
Net revenue was up four percent to $11.46 billion versus $11.04 billion last year. This missed Street consensus revenue estimates of $11.54 billion.
For fiscal 2012, Coca-Cola reported net income of $9.02 billion or $1.97 per share, versus $8.58 billion or $1.85 per share, in fiscal 2011. Adjusted earnings were $9.22 billion or $2.01 per share, compared to $8.94 billion or $1.92 per share, last year. This compares to analysts' consensus of $2.00 per share on revenue of $48.14 billion for the fiscal year.
During Tuesday's trading session, KO was down around 3 percent to $37.50. Over the last year, KO has climbed almost 11 percent, including a gain of 3.60 percent in 2013.
At current levels, the company has a market capitalization of roughly $168 billion and the stock is currently yielding around 2.60 percent.
Posted-In: PoweradeEarnings News Guidance Intraday Update Movers Best of Benzinga
View Comments and Join the Discussion!