AOL Surges on Earnings, RBC Capital Upgrade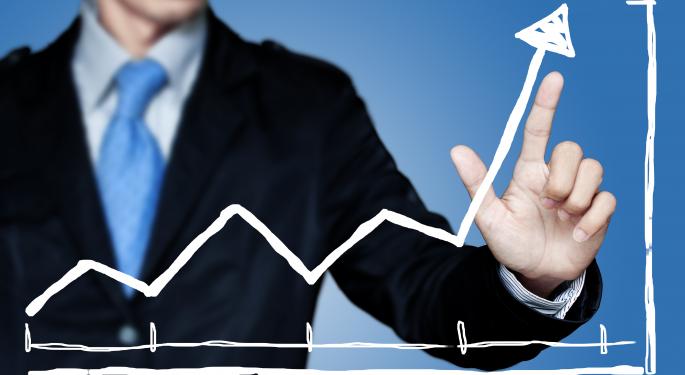 AOL (NYSE: AOL) is riding high after a strong earnings report and upgrade by RBC Capital.
The New York Internet firm finished the fourth quarter with an EPS of $0.41. This was on par with analysts' expectations. The company nearly doubled EPS on a year-over-year basis, as it finished with $0.23 in the fourth quarter of 2011.
Revenue came in higher than expected for the quarter. Wall Street anticipated $574 million while AOL finished with $599.5 million. Also, revenue rounded out higher than during the fourth quarter of 2011, marking the first year-over-year increase in eight years.
EPS was over 93 times higher than the previous year, finishing at $11.21 as compared to $0.12 in 2011.
For the year, revenue was about even, finishing at $2.19 billion as compared to $2.2 billion in 2011.
Advertising Success
AOL's advertising category finished the quarter at $410.6 million, topping Q4 2011 by 13 percent.
For the year, this category rounded out at $1.42 billion - an eight percent jump from 2011.
Subscriptions Lag
Subscription revenue was down over 10 percent during the fourth quarter, finishing at $174.2 million as compared to $194.6 million during the same period in 2011.
It was also down for the year by 12 percent. After finishing 2011 with $803.2 million in subscription revenue, AOL rounded out 2012 with $705.3 million in this category.
People Still Use AOL
In the 1990s, the dial-up Internet was all the rage, with AOL being synonymous with the Internet itself. However, as broadband began to spread, AOL faded as the top dog in this arena. Yet, nearly 2.8 million people still change the oil, take a shower or go grocery shopping while web pages load by using AOL's dial-up service.
The number of subscribers is steadily dwindling, down 15 percent year-over-year. However, based on statistics provided by Leichtman Research Group, AOL has more subscribers than all but the top five broadband companies and has about as many as the next four (Suddenlink, Mediacom, Insight and Cable ONE) combined.
You've Got an Upgrade
Due in part to the successful earnings release, RBC Capital has upgraded AOL from Sector Perform to Outperform.
RBC Capital noted that the company's current valuation is still reasonable. It also believes that AOL's revenue growth turnaround is still in its early stages. Additionally, RBC Capital believed AOL can cut expenses even further. Finally, RBC Capital noted that AOL continues to return cash to shareholders and has authorized a $100 million share repurchase.
Market Reaction
AOL has had a steady share price since the beginning of December, 2012. The stock has hovered in the $29 to $32 range for the entire period.
However, the successful earnings release and RBC Capital upgrade have sent the stock upward in trading on Monday. As of this writing, AOL has eclipsed $36 - the first time it has done so since the end of November.
AOL is up around 7.5 percent on Monday.
Posted-In: RBC Capital MarketsEarnings News Tech Best of Benzinga
View Comments and Join the Discussion!