Yelp Down on Weak Fourth Quarter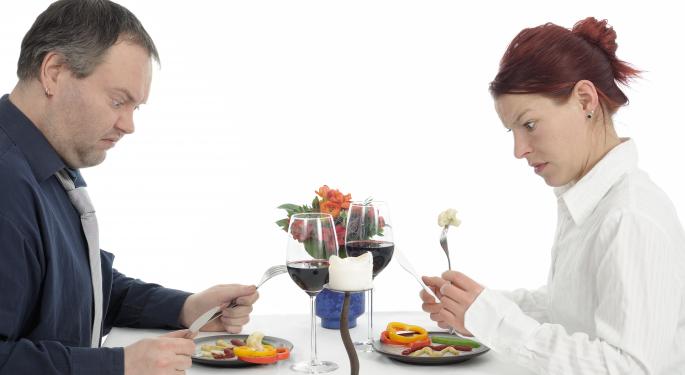 Yelp (NYSE: YELP) is down on Thursday after releasing lower-than-expected fourth quarter earnings.
The San Francisco firm finished the quarter with a loss of $0.08 per share. Analysts had hoped for $0.05 per share loss.
Also, the online review site posted a loss of $5.3 million for the quarter.
For the year, Yelp reports a $19.1 million, or $0.35 per share, loss. In 2011, the firm lost $16.9 million, or $1.10 per share.
Yet, the company performed better than it did during the fourth quarter in 2011. Investors may recall Yelp posted a net loss of $9.1 million, or $0.56 per share, during the period.
Global Expansion
During 2012, Yelp increased its presence overseas, mainly in Europe.
The company's expansion kicked off with several launches in Northern Europe. The first was the launch of Yelp Sweden in March. In the following month, Yelp Denmark was released. Yelp Norway followed in May and Yelp Finland was launched in June.
Yelp then expanded its UK presence with a new sales office in London in July.
It also tapped into the Asian market with the launch of Yelp Singapore in September.
Then, in October, Yelp made advances in Central Europe. Early in the month, the firm announced the launch of Yelp Poland.
Then, it acquired Europe's largest local reviews site, Qype, which is based in Germany. At the time of the deal, Qype attracted 15 million unique visitors across 13 countries per month.
Finally, in December, the company launched Yelp Turkey.
Notable Partnerships
Yelp branded content was implemented in the Apple (NASDAQ: AAPL) Maps app on iOS 6. The company also partnered with Bing (NASDAQ: MSFT) to power their local business pages. Additionally, Yelp was incorporated into Lexus (NYSE: TM) and Mercedes in-vehicle infotainment systems.
Strong Guidance
Analysts expect Yelp to generate revenues of just under $44 million during the quarter. However, the firm expects revenues to close at $44 to $44.5 million.
Yelp also has higher-than-expected hopes for full-year revenues. While analysts expect the company to pull in $207 million, Yelp plans to finish in the $210 to $212 million range.
Market Reaction
Yelp is down big on Thursday. The weak fourth quarter appears to have outweighed the positive guidance thus far.
After closing at $22.38 on Wednesday, Yelp is down below $21 as of this writing. On Thursday, Yelp is trading down around six percent.
Posted-In: Earnings News Guidance Global Best of Benzinga
View Comments and Join the Discussion!