Amazon Making Less Than $0.01 for Every Dollar of Revenue?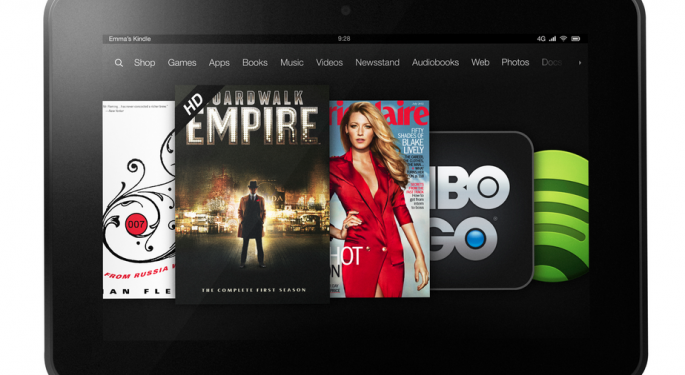 Everyone thinks that Amazon (NASDAQ: AMZN) is the untouchable king of online shopping, but with razor-thin margins and rising competition in the tablet and e-reader space, the retailer might not report a record-breaking quarter.
In fact, some analysts suspect that while Amazon will not lose money, it could report earnings that are below consensus.
"Our estimates for the December quarter are revenue of $22.4B, which is growth of 28.8% YoY and 62.6% sequentially," BGC analyst Colin W. Gillis wrote in a report this week. "Our revenue estimate compares to consensus estimates of $22.2B. Our EPS of $0.23 compares to $0.38 in the prior year and -$0.60 in the prior quarter and is below consensus EPS of $0.27."
Gillis, who has a $245 price target on Amazon, said that any upside to consensus earnings "is still a very low hurdle given the difficulty the company has had expanding earnings in recent quarters."
"Our net income expectation is that Amazon makes half-a-penny for every dollar of revenue," he concluded.
Piper Jaffray, whose team of analysts includes famed Apple (NASDAQ: AAPL) commentator Gene Munster, Matthew E. Lebo and Douglas J. Clinton, believe that Amazon will report in-line with Street expectations.
"Meanwhile, we expect EPS of $0.10, which is below the Street's $0.28, but ahead of the $(0.16) we believe implied by guidance," Piper Jaffray wrote in its report. "Meanwhile, historical trends (last 5 Mar guides) suggest Mar guidance could be 3-6% below the Street's $16.9B; however, Amazon has guided below Street expectations by an average of 4% over the last 5 quarters."
Despite the concerns of lower guidance, Piper Jaffray has raised its Price Target to $329 and reiterated its Overweight rating "given the company's roadmap to dominate global e-commerce over the next decade."
Topeka Capital Markets analyst Victor Anthony did not have a lot to say about Amazon in his preview of the stock, but he is anticipating more positive results. "We are expecting an in-line quarter versus the consensus, along with in-line 1Q13 guidance," he wrote in his report. "We are estimating revenues of $21.49B, pro-forma operating income (CSOI) of $225M (1.0%), and GAAP EPS of ($0.12).
"Key will be whether Amazon is nearing the end of its roughly three-year investment cycle, in which pro-forma operating margins (CSOI) contracted to 1.7% in 3Q12 from 7.1% in 1Q10. We think so."
Goldman Sachs' expectations are even higher.
"We expect Amazon's 4Q12 results will exceed consensus expectations and the high end of management guidance when the company reports after the close Tuesday, January 29," Goldman wrote in its report. "Based on our checks, along with third-party data, we believe growth in the core retail business was robust this holiday season, and expect Amazon continues to benefit from accelerating e-commerce growth and mobile proliferation."
Goldman also expects to see "revenue upside" from the second generation of Kindle Fire tablets, along with the recent line of Kindle e-reader upgrades. Amazon Web Services -- the division that took down Netflix (NASDAQ: NFLX) on Christmas -- is also expected to provide revenue upside.
While two of Amazon's core businesses -- online retail and cloud services -- should remain profitable entities for quite some time, it is not yet clear how well the company's devices are performing. To be clear, the Kindle Fire is not essential to Amazon's success. However, it could be the key to the company's future growth.
Tablets -- which provide an all-in-one experience for entertainment consumption -- are quickly removing the need for e-readers. If the e-reader industry continues to decline, Amazon will have to replace that business with the Kindle Fire or risk losing control of the e-book market.
This is where things could get tricky -- and downright messy -- for the online retailer. While the firm made its mark by selling billions of dollars with of physical goods, it wants to take make billions more selling digital items. If consumers buy an Apple iPad or Google (NASDAQ: GOOG) Nexus 7 instead of a Kindle Fire, they will be less likely to buy e-books, videos and music from Amazon.
Amazon does not say how many e-readers or tablets it sells each quarter. However, the company drew concerns and skepticism when it dropped $50 from the Kindle Fire HD 8.9" price -- not once but twice in one week. At the time, the full-size tablet was only a month old.
Amazon may not say how many Kindle devices it sold during the fourth quarter, but it is something to keep an eye on when the company reports its results this afternoon. The proof could be hidden in the revenue: if the earnings don't match the claims of record-breaking sales, it could be a sign that there is trouble in paradise.
Follow me @LouisBedigianBZ
Posted-In: AmazonEarnings Long Ideas News Short Ideas Previews Tech Trading Ideas Best of Benzinga
View Comments and Join the Discussion!