Morgan Stanley Beats Estimates, Soars on Friday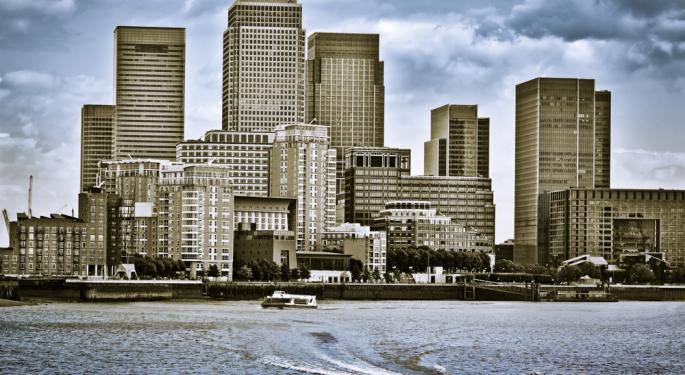 Morgan Stanley (NYSE: MS) released its earnings Friday, topping fourth quarter expectations.
Revenues for the quarter finished at just under $7 billion. This is on par with the average analyst's estimate of $7.02 billion, as noted by Yahoo Finance.
The New York brokerage firm topped earnings estimates, albeit slightly. According to Yahoo Finance, the average estimate was $0.27 per share. Morgan Stanley finished at $0.28 per share, edging by this mark.
Net income was $547 million, signaling a notable improvement from the third quarter in which the company reported a loss of over $1 billion. This category improved year over year, as well, as Morgan Stanley posted a loss of nearly $250 million in the fourth quarter of 2011.
Overall, the company posted a much better fourth quarter than it did a year ago. Revenues were up nearly 23 percent year over year. EPS rose nearly 300 percent, as well, after finishing at a negative $0.15 in the fourth quarter of 2011.
Market Reaction
Investors have taken kindly to Morgan Stanley's earnings thus far. After a gradual climb to $20, the stock has hovered around that price since the beginning of the year.
Now, in the morning hours of trading on Friday, the stock has risen around 6 percent and sits at nearly $22 as of this writing.
Also, according to Value Walk, the company will defer bonuses to its top earners and cut 1,600 employees from its senior workforce. Investors may recall hedge fund manager Dan Loeb's emphasis on reducing compensation expenses at the firm. It appears this round goes to Loeb and investors are happy with the score.
Good Outweighs Bad
Morgan Stanley's positive earnings and news on the compensation front have outweighed several rounds of recent negative press for the New York firm.
On January 16, the Federal Reserve announced Goldman Sachs (NYSE: GS) and Morgan Stanley will pay a combined $557 million as part of the mortgage loan deal that affected 10 other institutions. According to the Fed, "Like the other institutions, Goldman Sachs and Morgan Stanley were subject to enforcement actions for deficient practices in mortgage loan servicing and foreclosure processing."
Also, according to Bloomberg, the company has lost key employees this year. These include the company's London-based head of covered bond strategy, Leef Dierks, and their COO in India, Nina Nagpal. Another key employee, managing director Jonathan Pepper, has left for Singapore's Temasek Holdings Pte., as well.
Yet, the stock has still done rather well this year and has surged on Friday morning. Look for it to stay on course as the company reduces its workforce and rides the wave of its successful earnings.
Posted-In: Dan Loeb Federal ReserveEarnings News Best of Benzinga
View Comments and Join the Discussion!