PPG Earnings Preview and an Options Trade Around It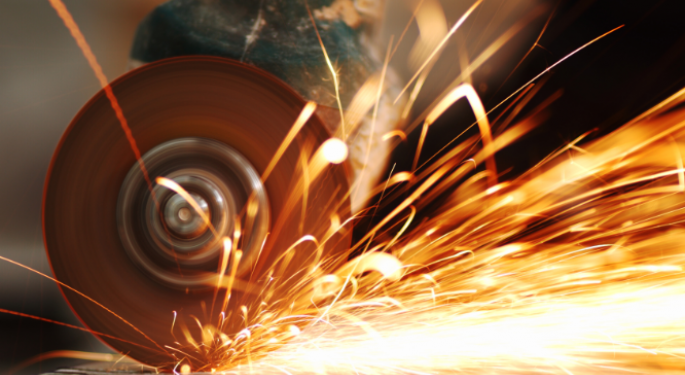 Chemical giant PPG (NYSE: PPG) will report earnings on Monday before the opening bell. It might not be the flashiest stock, but it still offers traders a chance to profit. In order increase the probability of a good trade, traders should be familiar with the current implications of the options market, the stock's technical picture, and some statistical prospective.
After previous earnings reports, PPG hasn't been very volatile. Following four of the last six earnings reports, PPG traded within its implied range. In the two cases it didn't, the stock gapped, indicating that it was trading on significant news the market was not expecting.
PPG's current monthly options for January only have one week until expiration. The short duration creates an organic way to derive what is implied for the event before the open.
Using an implied volatility and time-based model, Benzinga calculated the one and two-sigma range.
There is a 68 percent chance PPG will be within roughly up or down $5.08. This figure can be added to the stock and a range can be created. There is a better than 2 out of 3 chance we settle between $146.85 and $136.68 by the close on Friday. The two-sigma move is $10.17 either way -- $151.94 and $131.60 is the 95 percent confidence range.
This is important because traders can place long/short strikes at these probability levels, for example an iron condor. (The implied volatility (IV) curve is presented below.) The IV of an option is a measure of risk, supply and demand, relative price, and an input into theoretical models. The monthly average is vital to know, especially if traders are in two different months as a result of a calendar or diagonal spread.
The following chart includes the one and two sigma rolling probability cone, volume profile, and major moving averages [50 (yellow), 100 (blue), 150(purple), & 200(gray)]. PPG has been raging since October's report, up over 19 percent.
With that in mind, PPG has broken out of its trend channel that was established in May 2012. The volume distribution at these record highs is naturally sparse. Not much volume has been built out because there has not been little time for consolidation, or time for value to build.
The 50-day moving average is over 10 percent below current prices and PPG has over 23 percent short interest. The ATM (at the money) front month $140 straddle (lifting the offer) is at about $5.35 (3.7 percent of stock).
Follow me @Mark_Benzinga
Stock chart: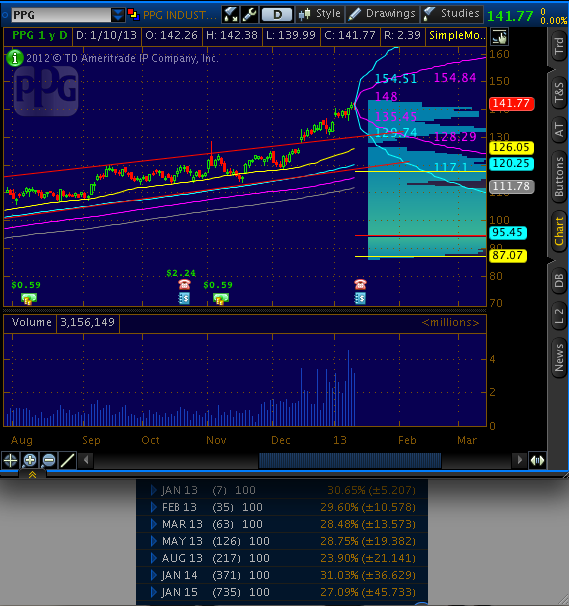 Posted-In: Earnings News Previews Options Markets Trading Ideas Best of Benzinga
View Comments and Join the Discussion!