Sanderson Farms Gaps Up After Q4 Results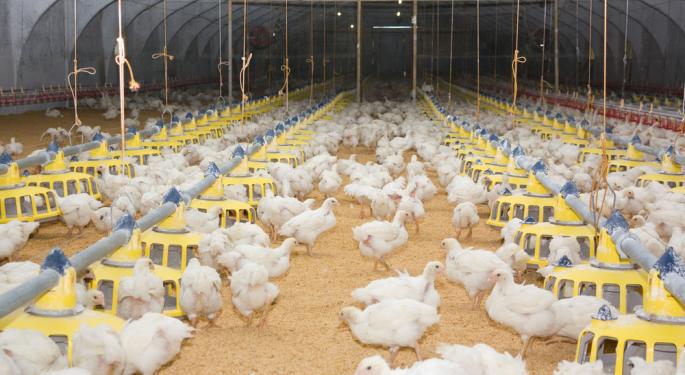 Shares of poultry producer Sanderson Farms (NASDAQ: SAFM) are slightly higher on Tuesday, after the company released its fiscal fourth-quarter earnings results prior to the opening bell. At last check, the stock had risen 0.34 percent to $49.94. At the open, SAFM gapped up and began trading at $50.75, so on an intra-day basis, the stock has actually lost ground.
The company reported earnings and revenue for the fourth-quarter which were ahead of Wall Street analysts' consensus estimates. The strength in the period was attributed to better pricing and selling conditions in the poultry market.
Sanderson Farms reported net income for the fourth-quarter of $9.35 million or $0.41 per share, compared to a net loss of $21.56 million or $0.97 per share, in the year ago period. This compared to Wall Street analysts' consensus EPS estimates of $0.32.
Net sales in the period were up 15.8 percent to $648.38 million versus $559.84 million last year. This also came in ahead of Street consensus revenue estimates of $635.75 million.
For fiscal 2012, Sanderson reported net income of $53.94 million or $2.35 per share, versus a net loss of $127.08 million or $5.74 per share last year. Sales for the year were up 20.8 percent to $2.39 billion. This compared to analysts' full-year 2012 earnings estimates of $2.22 per share on revenue of $2.37 billion.
"We are pleased that our profitability during fiscal 2012 allowed us to significantly reduce outstanding debt and strengthen our balance sheet," Chairman and CEO Joe Sanderson Jr. saild.
Year-to-date, SAFM has lost around 0.30 percent, underperforming the broader market. Over the last three months, however, Sanderson shares have now climbed a little less than 13 percent and remain in significant uptrend.
Posted-In: Earnings News Guidance Intraday Update Movers Best of Benzinga
View Comments and Join the Discussion!