Matress Firm Plunges on Weak Guidance; Tempur-Pedic Retraces Early Losses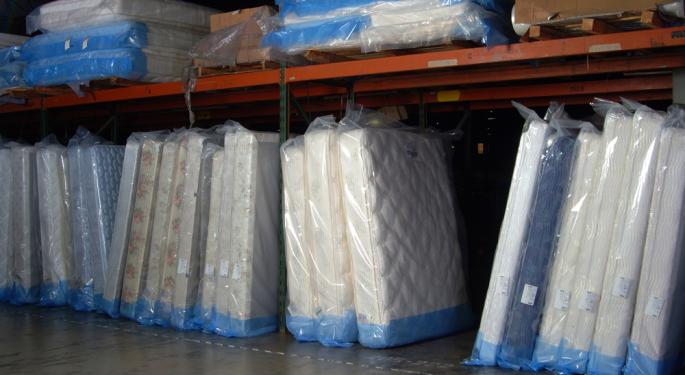 Matress Firm (NASDAQ: MFRM) shares are getting rocked on Wednesday after the company released its third-quarter earnings results.
The company beat Wall Street analysts' earnings and revenue expectations, but provided a weak outlook for the fourth-quarter and slashed its full-year guidance. Despite reporting a 51 percent jump in third-quarter sales, the stock plunged more than 20 percent during Wednesday's trading session as investors jump ship due to the company's poor outlook and cautious commentary. At last check, the stock was trading at $24.06.
Chief Executive Steve Stagner said, "Our expectations for the balance of this fiscal year are now below our previous plan in light of recent sales trends that continue to be impacted by ticket pressures and, beginning in early November, lower traffic growth. We expect that targeted initiatives being deployed internally will address many of our sales challenges."
For the fourth quarter, the company said that it expects adjusted earnings per share between $0.30 to $0.33. Revenue is expected to be between $261 million and $266 million for the period. The guidance is well below current Wall Street consensus estimates of $0.51 per share on sales of $281.13 million.
The weak outlook for the fourth quarter also caused the company to lower its full-year guidance. The Mattress Firm now expects full-year adjusted earnings per share of $1.49 to $1.52 on revenue of $1.010 billion to $1.015 billion. This is below analysts' consensus of $1.70 on revenue of $1.02 billion for the fiscal year. Previously, the company had guided for earnings per share of $1.67 to $1.73 on revenue of $1.022 billion to $1.039 billion.
For the third-quarter, the Mattress Firm said that its profit was $12.5 million or $0.37 per share, compared to $12.3 million or $0.55 per share, in the year ago period. The decline in earnings per share for the most recent quarter was a result of a higher share count versus last year's third-quarter.
On an adjusted basis, which is comparable to analysts' consensus estimates, the company earned $15.7 million or $0.47 per share. This beat Wall Street earnings expectations of $0.46 by a penny.
Sales in the period were up 51.1 percent to $277.3 million versus $183.5 million in last year's corresponding quarter. This was better than analysts' consensus revenue expectations of $271.59 million.
At the open of trade on Wednesday, shares of competitor Tempur-Pedic (NYSE: TPX) gapped lower in sympathy with Mattress Firm. The stock, however, rose throughout the trading session and had turned slightly positive heading into the closing bell.
The activity in Tempur-Pedic may be suggesting that investors are viewing the poor outlook provided by Mattress Firm as a slight positive for Tempur-Pedic.
If the market viewed Mattress Firm's weak guidance as being indicative of a cyclical downturn in the mattress industry, Tempur-Pedic shares would undoubtedly be lower on the day.
Considerable pessimism, however, has been priced into TPX compared to MFRM on a longer-term basis. The former stock has lost more than 47 percent in 2012 compared to a gain for Mattress Firm of four percent, even after Wednesday's massive decline.
Posted-In: Earnings News Guidance Small Cap Analysis Technicals Intraday Update Movers Trading Ideas Best of Benzinga
View Comments and Join the Discussion!