Tiffany 3Q Results Disappoint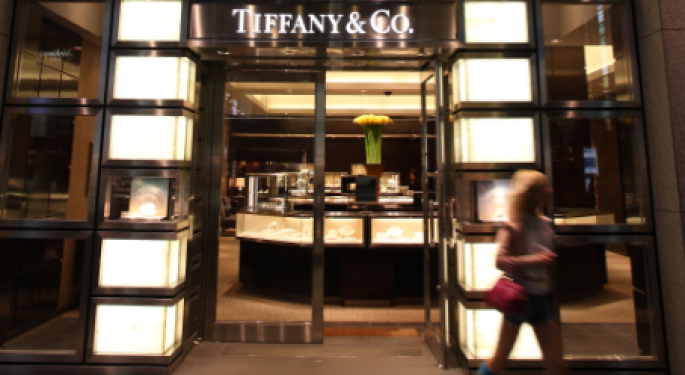 Jewelry retailer Tiffany (NYSE: TIF) reported disappointing third quarter numbers today. Third quarter net earnings declined by 30 percent to $63 million for earnings per fully diluted share of $0.49. Analysts had expected third quarter earnings per share of $0.63.
The company also cut guidance for the full year to earnings per share of $3.20 to $3.40 down from management's previous guidance of $3.55 to $3.70 and below analyst estimates of $3.60.
The decline in earnings came despite a four percent increase in worldwide net sales during the third quarter to $853 million. Adjusting for foreign exchange rates, worldwide net sales were up five percent and same store sales increased by one percent.
Michael J. Kowalski, chairman and chief executive officer, said in a statement accompanying the third quarter numbers, "Three months ago, we had anticipated that third quarter results would be affected by continued economic weakness in many markets as well as by challenging comparisons to last year when net sales were up 21% and net earnings had increased 52% excluding nonrecurring items. However, gross margin was weaker than we expected and Tiffany's effective tax rate was higher than we expected. As a result, net earnings were below our expectations."
Tiffany shares dropped sharply, down over six percent.
The company explained that the decline in gross margins came due to higher prices for precious metals and diamonds. Also, the sales mix was less favorable. Surprisingly, higher priced items carry lower profit margins. Tiffany reported increased sales of more expensive jewelry while sales of less expensive, high-margin items declined. Operating costs also increased due to higher labor costs and higher store rents.
Looking ahead to the rest of 2012, the company sees slower sales growth than its original forecast. Tiffany now expects worldwide net sales in U.S. dollar terms to grow by five to six percent, instead of the six to seven percent growth it had originally expected.
During 2012, Tiffany expects to open 28 new company-operated stores, 13 in the Americas, eight in Asia-Pacific, two in Europe and five in the United Arab Emirates.
"They are continuing to struggle with higher costs for raw materials and that is likely to be an ongoing issue with people not feeling great about the economy," Liz Dunn, an analyst with Macquarie Group told Bloomberg Businessweek. "They also are being hurt by the way customers are favoring the high-priced stuff, which happens to be the lower-margin business."
Tiffany has placed particular emphasis on the Asian markets for growth. The slowdown in Chiona has clearly impacted sales and earnings.
Tiffany also declared its regular quarterly dividend of $0.32 per share payable on January 10, 2013 to shareholders of record on December 20, 2012.
On the chart, Tiffany has gapped below support at the 200-day simple moving average but there does seem to be some support around the 59 level. If this support hold over the next few days, then the shares could rebound after a period of consolidation. A significant break below 59 would likely mean a test of support in the range of 54 to 55.
Posted-In: Earnings News Guidance Dividends Movers Trading Ideas Best of Benzinga
View Comments and Join the Discussion!