Bears Squeezed by Green Mountain Beat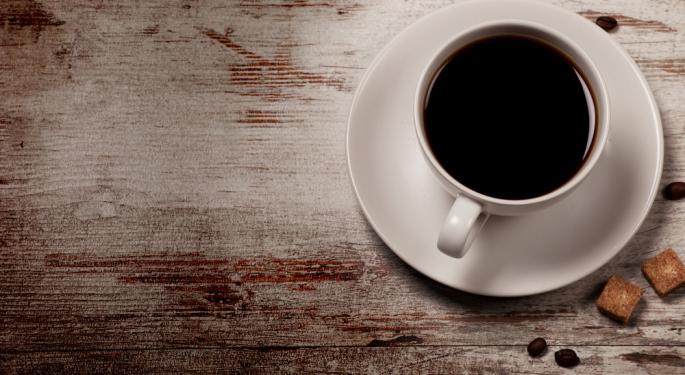 Green Mountain Coffee Roasters (Nasdaq: GMCR) panicked short sellers after it reported better than expected revenue and earnings for the fourth quarter of fiscal 2012. Green Mountain shares finished nearly 27 percent higher in Wednesday's trading, as more than 29 million shares changed hands.
How much of Wednesday's volume can be attributed to short covering remains to be seen, but short sellers should be sitting on some very nice profits if they sold before the big gap down on May 3, when the shares lost nearly 50 percent of their value following a disappointing earnings report.
Green Mountain reported Non-GAAP earnings per share of $0.64, up 36 percent from the fourth quarter of 2011 on revenue of $946.7 million, up 33 percent from a year ago. Non-GAAP earnings per share for all of fiscal 2012 was $2.40, up 46 percent from fiscal 2011. The company guided fiscal 2013 earnings per share at $2.64 to $2.74, up 13-18 percent.
Analysts had been concerned that the expiration of the patent on the K-cup single serve brewing system in September would hurt earnings, but Green Mountain says that operating margins improved as operating and selling expenses declined as a percentage of sales, offsetting higher costs resulting from the introduction of the new Vue brewing system.
The company attributed higher revenues to increased capital spending over the course of the year to prepare for the launch of the Vue brewing system, which has been a strong seller for Green Mountain.
It seems that the coffee market is gradually adopting the single serving cup model. Green Mountain's Keurig brand brewers have a 15-20 percent share of the total coffee brewer market in the United States, based on quarterly data, and the company expects single serving brewing systems to double their share of the brewer market by 2016.
Green Mountain will bring in its new CEO, Brian Kelley, formerly of Coca-Cola (NYSE: KO) next week. Bulls have been very optimistic about Kelley and have high hopes for his tenure. The successful introduction of the Vue brewing system and the ramp up toward the launch of the Rivo latte and espresso brewer, aimed at consumers who want to make coffee shop style drinks at home, should get Kelley off to a good start.
It will be interesting to see how Kelley changes Green Mountain's "cheap brewer/expensive single serve coffee pods" strategy now that the patent expiry has opened the K-cup market to a lot more competition.
In the meantime, today's sharp rally has put the share price above the 200-day simple moving average for the first time since October 10, 2011. Whether the share can hold onto its gains will depend upon how panicked the short sellers are.
Anyone who sold short before May 3 is sitting on a nice profit. Anyone who went short on May 3 or after has got to be sweating now. Just eyeballing the short interest summary, there are about 25 million shares short that will have to be covered at a loss of around $4 per share if today's price holds.
Once the short covering panic is over, it should be back to fundamentals. Will the gap be filled? Or will the shares establish a new trading range above the 200-day simple moving average?
Posted-In: Earnings News Guidance Movers Trading Ideas Best of Benzinga
View Comments and Join the Discussion!