Brown Shoe Reports Third Quarter Earnings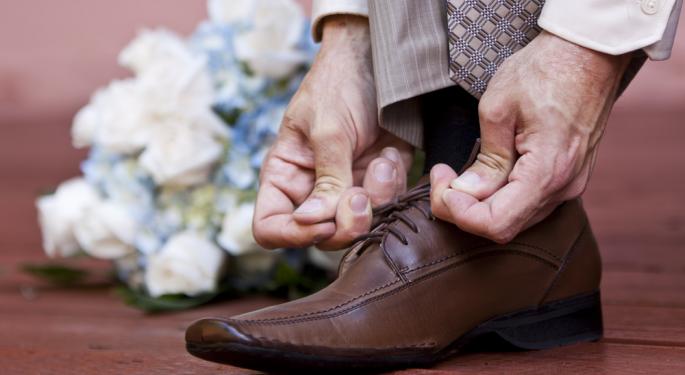 Brown Shoe Company (NYSE: BWS) announced third quarter numbers for FY 2012 Tuesday, reporting net sales of $732.2 million, up from $713.8 million in the same quarter last year.
Net earnings for this quarter were $24.3 million, with $0.56 diluted earnings per share, compared to net earnings of $33.7 million with diluted EPS of $0.79 in the third quarter of 2011. The third quarter report includes portfolio realignment charges of $2.6 million, while the third quarter figures for 2011 reflect a one-time gain of $21.6 million on the sale of AND1, offset by reintegration costs to the company of $5.6 million. On an adjusted basis, the net earnings from 2011 and 2012 were $21.9 million ($0.51 per diluted share) and $25.9 million ($0.60 per diluted share), respectively; an improvement of 18.3 per cent year-to-year.
The Famous Footwear brand reported record sales of $436.8 million in Q3 of 2012, an improvement of 4.9 per cent over the same quarter last year. Particularly strong growth was seen in boat shoes, running shoes and accessories. Sales of the Contemporary Fashion platform were up 5.2 per cent, and sales of the Healthy Living portfolio rose 2.1 per cent.
Brown's retail stores turned in an average 6.8 per cent increased sales over Q3 of 2011, the back-to-school season experiencing a 5.5 per cent growth. These same-store-sales figures account for the fact that the company closed or relocated 11 stores during the quarter, and added an additional 18 new stores.
Gross profit for the company rose 3.3 percent this quarter to $285.8 million, and the gross profit margin went from 38.7 per cent in Q3 of last year to 39 per cent in the third quarter this year. SG&A for Q3 of 2012 was $242.4 million, 33.1 per cent of net sales. This is an improvement on $239.4 million at 33.5 per cent of net sales from the same quarter last year.
Operating earnings rose 15 percent to $43.7 million, from $38 million last year. Third quarter inventory stood at $539.4 million, down 7 per cent from $580.2 million last year, with wholesale inventory reduced by 23 per cent but Famous Footwear's inventory flat. Brown's dept-to-capital ratio went down to 41.7 per cent from 50.1 per cent in Q3 of last year.
Russ Hammer, the CFO for Brown Shoe Company, was confident about the strong revenue and earnings results, and announced that the company's adjusted earnings per diluted share guidance range would be $1.06 to $1.10 for 2012.
Posted-In: Famous Footwear Russ HammerEarnings News Retail Sales Management Best of Benzinga
View Comments and Join the Discussion!