Tyson Foods Earnings Report Shows Steady Growth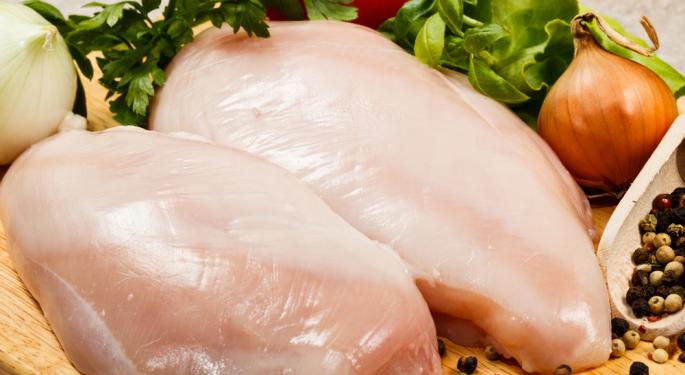 The preliminary earnings report is out for Tyson Foods Inc. (NYSE: TSN). The company posted sales in excess of $8 billion in Q4, totaling $33 billion for FY2012. The company repurchased 3.2 million shares for $50 million in Q4, making for a total of 12.5 million shares repurchased at $230 million this year.
Operating profits for the chicken and beef segments were higher than expected. Chicken earned $131 million, and beef earned $177 million, exceeding expectations of $74 million and $41 million, respectively, made by Bank of America Merrill Lynch (NYSE: MER). These high earnings offset operating profits of $68 million for the pork segment, as much as $30 million below some projections, and $39 million for prepared foods, under a projected $45 million.
Adjusted EPS for Q4 of FY2012 is $0.55, compared with $0.45 estimated by Morgan Stanley (NYSE: MS). Adjusted EPS for the fiscal year is $1.91, compared with $1.90 in 2011. The regular dividend was raised by 25 percent, with an additional special dividend of $0.10.
Chicken prices rose 9.4 percent, offsetting a $30 million rise in grain and feed ingredient prices this quarter. A $600 million increase is expected for FY2013. Chicken profits are expected to be below the normalized range of five to seven percent.
The operating margin for the beef segment was 3.4 percent, above projections, significantly outperforming margin projections for the quarter. Beef is expected to be below the normalized range of 2.5 – 4.5 percent.
The operating margin for prepared foods 4.8 percent versus a project 5.5 percent. Prepared food margins are expected to be in the normalized range of four to six percent in FY2013. Pork margins were at 5.2 percent, rather than the seven percent projected by analysts, and in or above the normalized range (six to eight percent). BoA reports that this underperformance was due in part to an excess supply of domestic pork that drove prices down -12.2 percent this quarter.
In an earnings conference call, CEO Donnie Smith stated that FY2013 is "likely to be equally if not more difficult" than FY2012, but Smith and other officers at the company remained optimistic about goals for sustainable growth in 2013 and beyond. The company believes that EPS will remain flat in 2013, and then grow at a rate of 10 percent into 2014 and 2015.
Start-up operations in Brazil and China cost the company $100 million in 2012, but the company expects to recoup the losses by taking steps to move mix away from wholesale and include more value added offerings. Executives emphasized a continuing enhancement of international business along with steady growth in the domestic market.
The company posted record sales of $33 billion in FY2012, and projects revenue of $35 billion in 2013, a five percent increase.
Capital expenditures for the year were $690 million, $160 million in Q4.
Posted-In: Bank of America Merrill Lynch (MER) Morgan Stanley's (MS)Earnings News Best of Benzinga
View Comments and Join the Discussion!