This is How Major Companies Expect 2013 to Unfold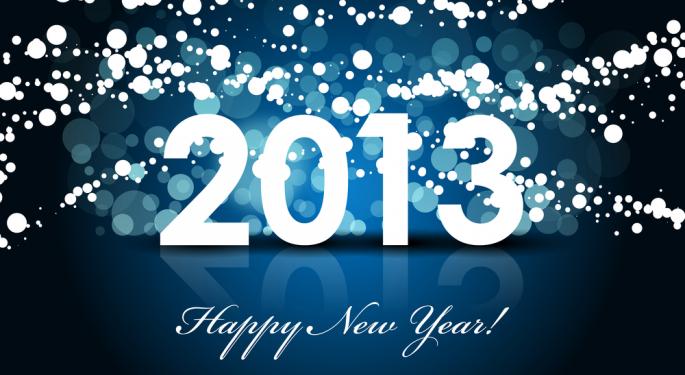 It might shock some readers, but 2012 is rapidly drawing to a close. With only a few weeks left in the year, it might be time to start looking ahead to 2013. It has been an interesting year for investors, a year which has been fairly kind to the bulls: the S&P 500 has rallied nearly eight percent this year -- even including the post-election sell-off.
But how will 2013 unfold? No one can know for certain, but the following is a list of 10 predictions from companies for 2013:
Caterpillar (NYSE: CAT): Much of the Same
Caterpillar, the maker of heavy duty construction machinery, doesn't expect much change in the global economy. The company believes that the world is not poised for a recession, but at the same time, business activity is unlikely to improve significantly.
Caterpillar saw positives in Brazil and China. "We think Brazil will continue to improve some and China's growth rates will improve to about 8.5 percent," Caterpillar's CEO said.
On the other hand, Caterpillar was concerned with the developed world -- predicting that European GDP wouldn't grow at all.
Home Depot (NYSE: HD): Concerned with the Fiscal Cliff
Home Depot shareholders have enjoyed a tremendous run in 2012. Shares have rallied well over 50 percent as the company has posted strong earnings. Yet, despite such a great year, Home Depot's management remains cautious about 2013.
Home Depot cited uncertainty, particularly uncertainty about the fiscal cliff. Management said it didn't want to raise debt in such an uncertain environment.
Intel (NASDAQ: INTC): More Touch-Enabled Computers
With the launch of Microsoft's (NASDAQ: MSFT) Windows 8 in October, touch-based computing has shifted from just the smartphone and mobile world to the more traditional laptop and desktop realm.
Windows OEMs like Dell (NASDAQ: DELL), Hewlett-Packard (NYSE: HPQ) and Acer have rolled out touch-enabled, Intel-powered Ultrabooks, but many non-touch based offerings remain.
Intel thinks the touch trend will continue to grow in 2013.
Activision-Blizzard (NASDAQ: ATVI): Console Transition Will Pressure Video Game Industry
Activision-Blizzard, despite releasing a number of huge hits in 2012 (Diablo III, World of Warcraft: Mists of Pandaria, and Call of Duty: Modern Warfare II) remains cautious on 2013.
Nintendo's Wii U console hits the shelves November 18. Additional consoles from Microsoft and Sony (NYSE: SNE) have not been announced, but are thought to be on the horizon. That shifting environment of new hardware could pressure video game makers like Activision.
Activision's CEO -- Bobby Kotick -- was also cautious about the company's margins for new games. "As you get deeper into the [console] cycle, you start see pricing change for all but the most desired titles," Kotick noted on a recent conference call.
J.P. Morgan (NYSE: JPM): Mortgage Rates Will Go Up
Like all financials, 2012 was a great year for J.P. Morgan. Shares of the bank were hit in the first half of the year with a scandal involving the trader known as the "London Whale."
Still, year-to-date, shares are up over 18 percent, outperforming most of its peers. For comparison's sake, the Financial SPDR ETF (NYSE: XLF) -- a basket of numerous financials -- has returned only 16.50 percent.
J.P. Morgan's charismatic CEO -- Jamie Dimon -- is well-known for his positive outlook on the economy. But more specifically, on the bank's last earnings call, Dimon gave his outlook on housing:
"As long as rates stay low, refis will stay high and volume will be high...I personally think [rates will go up]...sometime in 2013, but I don't know that...You're going to see more competitive pricing," Dimon said.
Mortgage rates have been at record lows for quite sometime. Perhaps 2013 will finally be the year things turn around.
McDonald's (NYSE: MCD): Eating Out Market Won't Grow Much
Fast food behemoth McDonald's has struggled in 2012. Shares of the company have plunged from a record high near $100 in January to just above $84 per share in November.
McDonald's posted its second earnings disappointment of the year in October, as international weakness has plagued the company's profitability. Sales growth hit a nine-year low in the third quarter.
While McDonald's has promised to rebound in 2013, the company doesn't forecast much growth in eating out overall. McDonald's believes that the market will be relatively stagnant in 2013.
On a more positive note, McDonald's doesn't think commodity costs will increase as much as they did in 2012, although the restaurant still thinks commodity costs will be up a bit next year.
Qualcomm (NASDAQ: QCOM): Demand for Smartphones Will be as Great as Ever
Qualcomm, the maker of smartphone and tablet components, thinks 2013 will be a strong year for the industry. The company said consumers continue to adopt smartphones at a "rapid pace," and that this will continue next year.
On a recent earnings call, management stated that, despite economic weakness, the demand for smartphones will still be strong. Qualcomm forecast 14 percent growth year-over-year for 3- and 4G devices.
Qualcomm is less positive on the overall economic picture, stating that they expect global GDP to grow only 3.0 percent, less than the 3.5 percent consensus estimate. Still, that sluggish growth shouldn't dampen the demand for smartphones.
General Motors (NYSE: GM): European Car Demand Will be Down
Data released on Thursday indicated that Europe had slipped back into recession. It wasn't a surprise to many, as the continent has been beset with one debt crisis after another -- first from smaller countries like Greece and Ireland; later by larger ones like Spain.
Auto manufacturers haven't been immune to Europe's economic problems. GM rival Ford (NYSE: F) recently announced that it would take steps to close a number of plants in the region and layoff thousands of workers.
GM doesn't think the situation will improve in 2013. In fact, management stated that they were expecting overall auto industry demand to decline by 4-5 percent in 2013. That decline is relative to 2012 -- a year GM characterized as having depressed sale figures.
Comcast (NASDAQ: CMCSA): Video On Demand Will Grow
Consumers have seen their options for entertainment expand in recent years. Internet-based services like Netflix (NASDAQ: NFLX) and Hulu have offered consumers alternative ways to view content apart from the traditional, broadcasting model.
Comcast believes that trend will continue.
The cable giant launched mobile apps that allow subscribers to view content over the Internet. Competitors like DirecTV (NASDAQ: DTV) have made similar moves. If Comcast is right, consumers can expect more of that in 2013.
"One of the new major areas for any cable channel or broadcast channel can monetize their content is SVOD [streaming video on-demand]. In a way it's a new form of the traditional syndication model...after the shows have aired in their primary run....they have been sold into another market and SVOD has emerged as a major revenue source, and our belief is that revenue source will continue," said Comcast's Steve Burke.
U.S. Steel (NYSE: X): Coal Prices Will Drop
Coal companies have had a difficult 2012. Shares of Arch Coal (NYSE: ACI) plunged over 50 percent, and Patriot Coal filed for bankruptcy in July.
Leading up to the U.S. presidential election, shares of coal companies soared as investors may have speculated that Mitt Romney would win the presidency. A Romney win might have been more favorable to coal than President Obama.
At any rate, U.S. Steel doesn't expect a rebound for coal in 2013. In fact, in a recent call, management said they expected coal costs would be down "significantly" next year.
That could mean coal companies are in for another rough year. However, if that's the case, steel companies -- and other companies that use coal as a major input -- could benefit.
Posted-In: Earnings News Guidance Commodities Previews Management Global Markets Best of Benzinga
View Comments and Join the Discussion!