The Week Ahead: October Unemployment, Housing and Earnings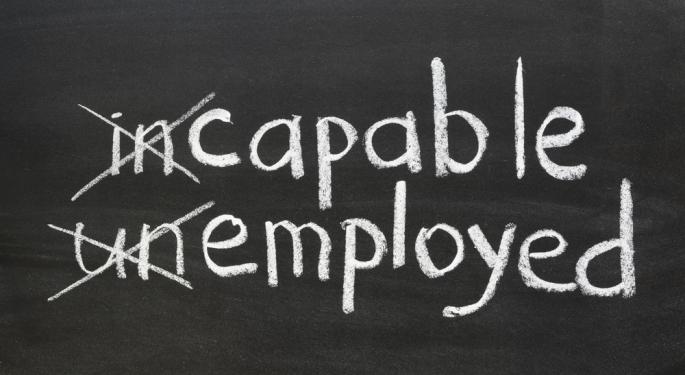 The last week of October could prove to be significant for the markets. Notably, the final jobs report prior the U.S. Presidential election will be released at the end of the week, and the smaller employment reports (ADP, Challenger, etc.) will lead up to Friday's big release at 8:30 ET. A strongly positive or negative report could affect the election, and from there, the broader markets. PIMCO's Bill Gross recently argued that a Republican victory would be good for stocks -- at least in the shorter-term -- while Obama's re-election would be detrimental. Still, by the time Friday rolls around, there may be few undecided voters left, so no matter how good or bad the report is, it may have little impact on the election.
On the individual stocks front, earnings season continues to move along in full force. Investors can anticipate releases from several industrial companies such as Exxon Mobil (NYSE: XOM) and Ford (NYSE: F). In addition, credit card companies Visa (NYSE: V) and Mastercard (NYSE: MA) will also report earnings, which could shed some light on the state of the U.S. consumer. Other notable companies like Starbucks (NASDAQ: SBUX) and Allstate (NYSE: ALL) will release their earnings this week.
Ford's report could prove most interesting, given the steps the company has taken in recent weeks. This past week, Ford announced significant reductions to its European workforce. Although the company said that its European downsizing would not lead to an earnings miss this quarter, investors can look to Ford's report to get insight on the broader European economy. Watch for Ford's management to give color on the state of the Eurozone.
Wall Street continues to look towards the election, and by extension, a possible resolution to the fiscal cliff. Therefore, markets may trade in a tight range until after the election. Still, active investors would do well not to sit by idly. In addition to U.S. data and earnings, the market will see a few key international data points. Spanish GDP, French consumer spending and the unemployment rate in the Eurozone will all be released this week, and could lead to powerful moves in the U.S. stocks.
Economic Data
Monday morning, the Department of Commerce releases personal consumption data for September. Also, the Dallas Fed shares results from its monthly survey of manufacturers in Texas.
The S&P/Case-Shiller home price index is due out Tuesday morning and will show whether the housing recovery continues. Also, the Conference Board releases its latest Consumer Confidence Index. The forecast calls for the confidence to rise to 74.0 from the previous reading of 70.3.
Wednesday brings not only the aforementioned ADP national employment report, but also the Institute of Supply Management's survey of business conditions in the Chicago area.
Challenger, Gray & Christmas shares its monthly report on corporate layoffs Thursday morning, followed by the Department of Labor's weekly report of initial jobless claims. The prediction is for first-time claims to fall from the previous 369,000 to 365,000.
Thursday morning also brings the ISM manufacturing composite index, forecast to remain unchanged at 51.5, which signals mild expansion. And the Census Bureau also releases data on new construction activity.
The big Bureau of Labor Statistics employment situation report comes first thing Friday morning. October unemployment rate will tick up to 7.9, with nonfarm payroll employment rising by 120,000, compared with the previous rise of 114,000.
Also Friday morning, the Census Bureau releases data on new factory orders of durable and nondurable goods.
Earnings Reports
Ford (NYSE: F), Pfizer (NYSE: PFE) and Archer Daniels Midland (NYSE: ADM) are on deck to share quarterly results Tuesday. Analysts foresee lower per-share earnings from each of them, compared with a year ago.
MasterCard (NYSE: MA) and Visa (NYSE: V) are expected to report year-over-year earnings growth on Wednesday. Allstate (NYSE: ALL) and Ralph Lauren (NYSE: RL) are scheduled to report Wednesday as well.
Exxon Mobil (NYSE: XOM) is expected to report lower per-share earnings Thursday, and analysts believe AIG (NYSE: AIG) will have swung to a profit from the year-ago loss. Kellogg (NYSE: K) and Starbucks (NASDAQ: SBUX) also are scheduled to share their most recent results Thursday.
And the Washington Post (NYSE: WPO) is forecast to post an earnings decline on Friday.
Fed Speakers
Tuesday, 12:30 p.m.: New York Federal Reserve Bank President William Dudley speaks to the Fairfield, Conn., County Business Council.
Wednesday 12:45 p.m.: San Francisco Federal Reserve President John Williams speaks to the New York Forecasters Club on monetary policy and the economy.
Thursday 12:30 p.m.: Atlanta Federal Reserve Bank President Dennis Lockhart speaks to the Chattanooga Downtown Rotary.
Thursday: Boston Federal Reserve Bank President Eric Rosengren speaks at Babson College's Stephen D. Cutler Center for Investments and Finance.
Friday 2:25 p.m.: San Francisco Federal Reserve Bank President John Williams speaks to a Fed Community Leaders Luncheon in Salt Lake City.
View Comments and Join the Discussion!
Posted-In: ADM ADPEarnings News Events Econ #s Economics Markets Best of Benzinga