Apple Earnings Preview!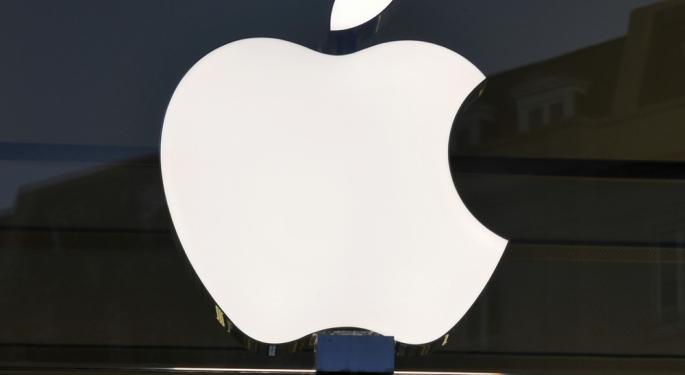 In what is normally the biggest event of earnings season, Apple (NASDAQ: AAPL), the largest company in the world by a wide margin, will be releasing its fiscal fourth-quarter financial results after the closing bell on Thursday. The news will be market moving, with dozens of other stocks tied into the Apple eco-sytem likely to be effected.
Heading into the report, Wall Street analysts have consensus earnings per share estimates of $8.75. This high estimate is $9.68 with a low estimate of $8.00. In the year ago quarter, Apple reported earnings per share of $7.05. Previously, the company guided for EPS of $7.65.
Revenues in the quarter are expected to be $35.80 billion, which implies year over year sales growth of 26.60 percent. In last year's fiscal fourth-quarter, Apple reported revenue of $28.27 billion. The low estimate on Wall Street is $34.28 billion with a high estimate of $38.04 billion. Previously, Apple guided for fourth-quarter revenues of $34.00 billion.
A year ago, Apple actually missed consensus earnings estimates, a rarity for the company. The consensus EPS number was $7.39 versus the company's actual earnings of $7.05 per share.
Investors have come to expect that Apple will blow out Wall Street earnings and revenue expectations, and a second straight poor fourth-quarter would catch most market observers by surprise.
Over the last 3 months, consensus earnings expectations for the technology giant have moved around considerably. Just 90 days ago, the consensus EPS estimate was $8.57. Subsequently, that fell to $8.40 around two months ago prior to being ratcheted up to $8.88 just a month ago. In recent days, that figure has come back down to the current estimate of $8.75.
Over the last three months, Apple shares have risen around 6 percent, which compares to gain for the broader Nasdaq of about 4.60 percent. Year-to-date, the stock has surged more than 50 percent and the company currently sports a market-cap of around $572 billion.
Investors will be paying close attention to the sales figures for iPhone and iPad which accounted for 72 percent of Apple's revenue last quarter.
The current period will be the first that includes sales of the iPhone 5, but it will only be a few days' worth. The iPhone 5 was launched on September 21 and the company's fiscal fourth quarter ended on September 29.
During the first weekend that the iPhone 5 was on sale, more than 5 million units were sold. Analysts are projecting total iPhone sales in the quarter will be 25 million, representing a 46 percent year over year increase.
In introducing the iPad mini on Wednesday, Apple revealed that it has sold around 100 million iPads to date. According to Shaw Wu, an analyst at Sterne Agee, this figure would put the number of iPads sold in the September quarter under 16 million.
"This is consistent with our supplier checks indicating lower build plans ahead of iPad Mini," Wu said. "To be conservative, we are trimming our estimate to 15.8 million units."
Currently, the consensus sales view for iPad on Wall Street are between 17 million and 18 million, so if Wu's calculations prove correct, there could be some disappointment. A number of analysts, however, have trimmed their estimates in recent days and therefore a lower iPad sales figure may not come as a total surprise.
Sales estimates for the company's other products are a little over 5 million Macs and 5.6 million iPods. This represents growth of roughly 2.25 percent and a decline of 18 percent, respectively.
While today's results may cause a large move in the stock, the really important data point for Apple will be next quarter. The holiday season is by far the most critical time of year for Apple.
Earnings per share estimates for the upcoming fiscal first-quarter are $15.41 versus the $8.75 estimate for the fourth-quarter. Revenues are expected to be $54.98 billion compared to the $35.80 billion for the most recent quarter.
In afternoon trade on Thursday, with the company's earnings results only hours away, Apple shares were trading down around 1 percent to $610.73. This compares to a market which is slightly higher on the day, suggesting that there is some pessimism in the stock heading into the report. Apple has been in a near-term downtrend since hitting an all-time high of just above $705.00 last month.
Posted-In: Earnings Long Ideas News Guidance Short Ideas Technicals Intraday Update After-Hours Center Best of Benzinga
View Comments and Join the Discussion!