What's Wrong with Apple?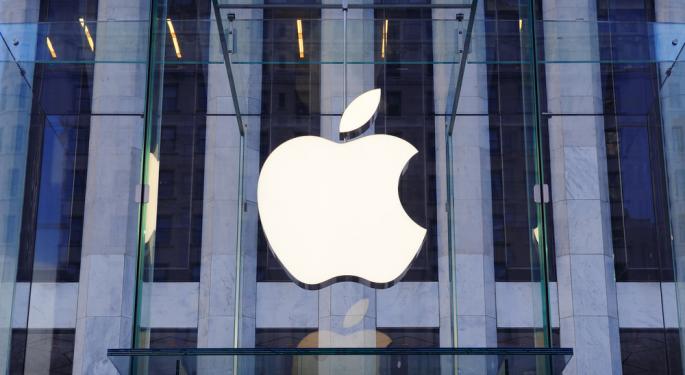 Big investors have been dumping shares of Apple (Nasdaq: AAPL) since late September and Apple bulls are mostly unfazed. No reason to worry, they say. The company will continue to innovate with new products that will drive growth going forward. Keep buying on weakness.
Recent institutional selling is cause for concern, but what's driving the recent selling? Is it simply profit taking or are big investors moving out of the stock due to concerns about execution going forward, competition and the possibility of slower growth ahead? It's a combination of the two but the latter reveals the current uncertainty that surrounds the company -- and the stock.
Stocks don't go up forever. Apple bulls seem to forget that when defending one of Wall Street's most-loved stocks. The bull case still holds water, but the bear case isn't a bad one either considering Apple's massive price run in recent years.
Look at a monthly chart of Apple and you'll see a stock that's up nearly 600 percent since the start of the bull market in March 2009. It's formed a series of bases, or consolidation areas, during its run. It's enjoyed a multitude of successful base breakouts but is now in late-stage base territory.
Breakouts from late-stage bases don't have nearly the success rate of breakouts from early-stage bases. Sure, it's possible that selling pressure will abate in Apple and the stock will eventually re-test its recent high of $705 but this scenario is still a long way from playing out, especially with the broad market acting as weak as it is. Mutual fund managers don't appear to be as keen on owning the stock as they were in 2009-10.
Apple certainly falls under the category of "not acting right" ahead of earnings. It fell 3.6% in heavy volume on Friday, rose four percent in lower volume on Monday, and dropped 3.3 percent heavy volume on Tuesday despite a flurry of new product announcements, including the introduction of the iPad Mini. The stock looks tired. Its price action in the prior three sessions was indicative of even more institutional selling.
According to recent data from FactSet, earnings season so far shows the lowest percentage of S&P 500 firms beating sales estimates since the first quarter of 2009. Only 42 percent of companies have reported sales above estimates, well below the average of 55% recorded over the past four quarters.
Fiscal fourth-quarter profit at Apple is seen rising 26 percent from a year ago to $8.85 a share with sales up 28% to $36.2 billion. No one would be surprised to see big beats on the bottom line and top line for Apple but whether or not it will enough to propel the stock higher remains to be seen. Due to multiple higher-volume declines in recent weeks, it most likely won't be an easy road back for Apple. Its 50-day simple moving average (SMA) at $661 could be a resistance level for now.
Stock chart: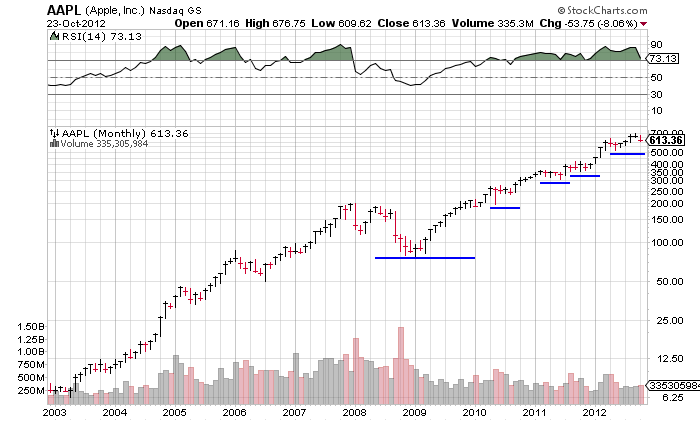 Posted-In: FactSetEarnings News Movers Tech Trading Ideas Best of Benzinga
View Comments and Join the Discussion!